Your hotel in Belhade
Book your hotel and restaurant in Belhade among 2300 Logis establishments at a low price

Welcome in the cordial and convivial environment of the inn « The Crémaillère ». The owners welcome you to their hotel a...
+ details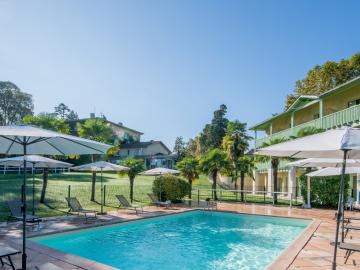 Overlooking Bazas old town and its 13th century cathedral, listed as a World Heritage Site by UNESCO, Domaine de Fompeyr...
+ details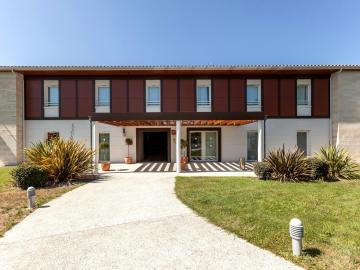 New hotel built in 2009. Buffet breakfast, seminar room, terrace, gardens, secure parking, WiFi, wine cellar, wine bar. ...
+ details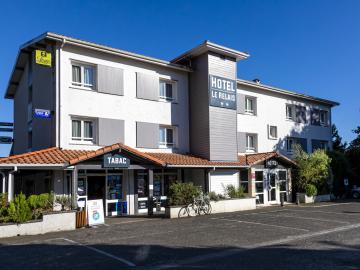 "In a choice setting between the ocean, lakes and forests, our recently renovated, air-conditioned and soundproofed room...
+ details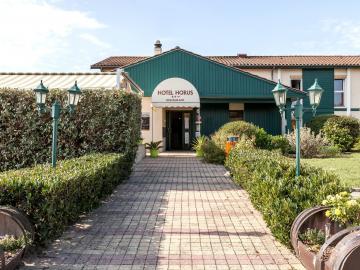 In a green setting, at the entrance to the A62 motorway, this recently-built hotel (1987) fits in perfectly with the sur...
+ details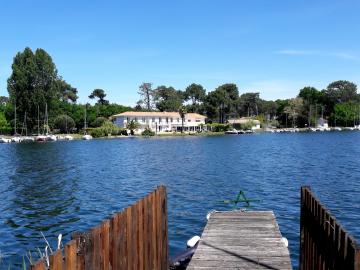 A small romantic hotel at the water's edge. All of our pleasantly-decorated rooms are equipped with a balcony or open on...
+ details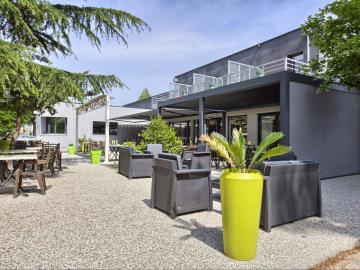 Ideally located to the south of Bordeaux, near to the airport and 15 mins. from the town centre, LE COMTE D'ORNON HOTEL ...
+ details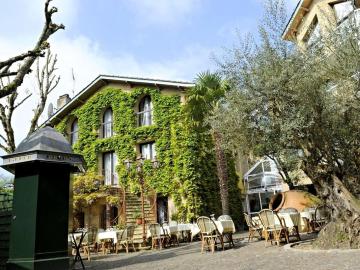 You are looking for a different kind of atmosphere, a place where you are sure to have a pleasant stay, quiet surroundin...
+ details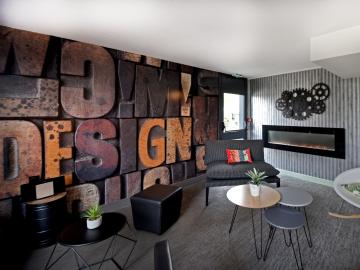 The Novalis is a cosy hotel ideally situated in the outskirts of Bordeaux. You can choose from light and spacious air-co...
+ details

BISCARROSSE PLAGE 45 km
Book
The air-conditioned establishment offers very comfortable rooms. An independent 75 m² meeting room, complete with air-co...
+ details

BISCARROSSE PLAGE 45 km
Book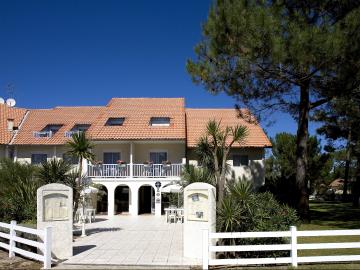 Logis Les Vagues was the 1st hotel of the Landes region to obtain the European Ecolabel in 2009. Located in a pine grove...
+ details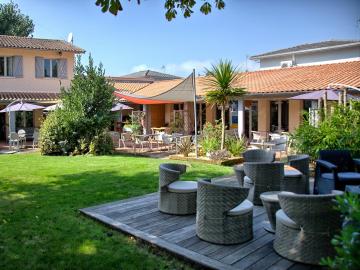 "Hotel Océana is a haven of peace and calm offering rest and relaxation in a pleasant and welcoming atmosphere. Our larg...
+ details
Discover France's regions. From your hotel you can visit the different sites near Belhade in the department Landes or organize the legs of your trip in cities based on your interests.
You will discover local specialities at the hotels in Belhade thanks to your hosts' advice. You can discover the historical, cultural and gastronomic patrimony by treating yourself to regional recipes prepared by our chefs.
Upon arrival, you will take advantage of the comfort and conviviality of the quality accommodations by Logis hotel-restaurants in Belhade.
Do wait any longer! Take advantage of our online reservation system and enjoy your holiday with peace of mind.
Hotel in BELHADE: discover the reviews of travellers
Activities and sightseeing in the area of BELHADE:
Galerie Art et Thé
Landes Art Moustey
Atelier Galerie Cristina
Matière et image
Galerie des 7 Arts
Malrome (SCEA)
Valérie Guillamon
Simone et les Mauhargats, Collectif d'artisans d'art et créateurs
Atelier d'Art Patrick Lesca
L'Atelier de Soia
Means of transport near BELHADE:
Aérodrome d'Arcachon - La Teste
Le Vol des Aigles (sur rendez-vous)
Auto Moto École Taysse Fc Gradignan
Aérodrome de Mimizan
Paradrone
Aéroport
Aerodrome of Bordeaux Léognan Saucats
Château Venus Air
Soumabere Alain TAXI 24/24 : Le Tech, Arcachon, La Teste, Gujan Mestras et Biganos
Ancien Aérodrome de Cabanac