OUR PET-FRIENDLY ACCOMMODATION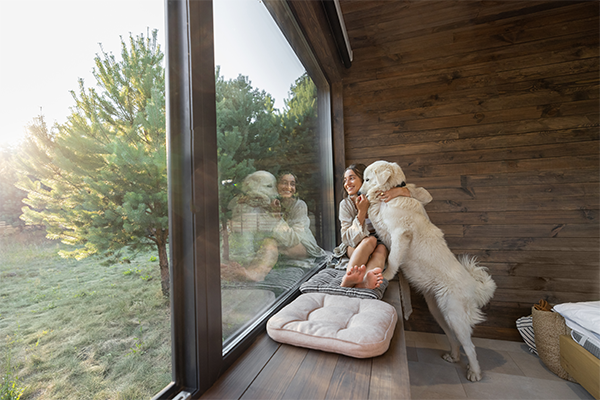 Looking for a hotel that accepts your dog or cat?
With a selection of over 1,500 pet-friendly accommodations by the sea, in the mountains or even in the city, all over Europe, you and your pet are sure to find the perfect destination for a family weekend or a stopover on your holiday route.
Functional and affordable, some pet-friendly hotels have dog-walking facilities.
Our rooms are fully equipped with all the comforts you need to spend a pleasant time with your four-legged friend, such as a spacious bedroom and bathroom.
Everything is provided to make your pet feel at home...
*A small supplement will be asked when booking your room for most hotels except those offering the option for free. Only small dogs are generally accepted. Please contact the hotel directly beforehand for any further information concerning the acceptance of your pet and to check the availability of rooms where pets are accepted.
Logis Hôtel Ar Milin
35220 Chateaubourg, France


From
90.45 USD /1 night
Logis Hôtel la Peyrade
46160 Cajarc, France

From
75.55 USD /1 night
Logis Hôtel le Relais
40600 Biscarrosse, France

From
67.04 USD /1 night
Our pet-friendly accommodation offers:

Going on holiday with your pet can sometimes be a real organisation, even though you consider your doggie or kitty to be a full member of your family and don't want to leave them alone when you go on your trip.
Whatever your choice of destination, from Burgundy to the Pays de la Loire, via the Rhône-Alpes, your pet is welcome in some of our hotels and restaurants!
A selection of more than 1500 accommodations offering a warm welcome with functional services and facilities such as an enclosed garden or a private courtyard where your dog can have a good time in complete safety or a pet-friendly hotel on the waterfront awaits you.
A cabin in the woods, a unique place from the 18th century, a room with a modern and design decoration or a flat...find your type of accommodation according to your desires and needs of the moment, accompanied by your four-legged friend.
With a low-cost supplement in most of our hotels, organising your stay or family weekend in a cat-friendly or dog-friendly hotel has never been so easy!
Your happiness with your faithful companion starts here.
At Logis Hôtels, Cit'Hotel, Urban Style, Demeures & Chateaux, Singuliers Hôtels, your pets have the right to a holiday too!
Enjoy a stay or weekend in the mountains, by the sea or in the heart of the city with your dog or cat from our selection of 1 to 4 star hotels that accept pets.
Get your energy up in the morning. In some of our accommodations, you can take advantage of an on-site restaurant to enjoy a breakfast made with fresh and local products. Numerous tourist sites near our establishments will allow you to make beautiful discoveries and strolls accompanied by your pet.
Choosing a Logis Hôtels, Cit'Hotel, Urban Style, Demeures & Chateaux or Singuliers Hotels establishment that accepts pets for your night at the hotel, is to ensure a stay at the best price with hosts who will be delighted to welcome your faithful companion.
scroll to
Earn euros and support our hoteliers