hôtels St medard en jalles
Your hotel in St Medard En Jalles
Book your hotel and restaurant in St Medard En Jalles among 2200 Logis establishments at a low price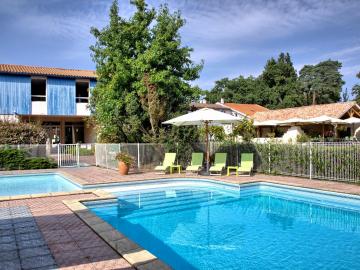 The Table des Sommeliers. This traditional establishment founded in 1896 has forged a solid reputation for the quality o...
+ details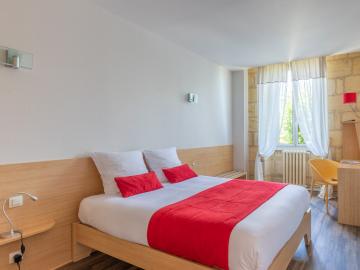 + details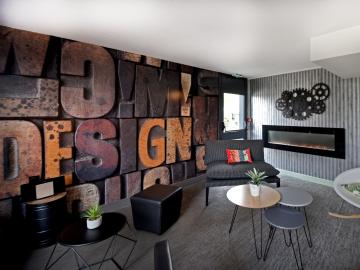 The Novalis is a cosy hotel ideally situated in the outskirts of Bordeaux. You can choose from light and spacious air-co...
+ details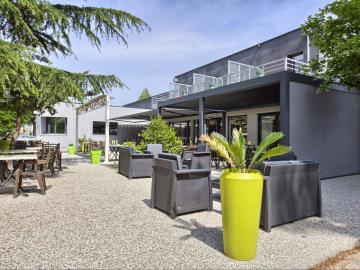 Ideally located to the south of Bordeaux, near to the airport and 15 mins. from the town centre, LE COMTE D'ORNON HOTEL ...
+ details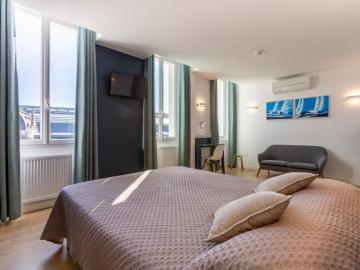 Welcome to the Regina hotel A desire for historical discovery? A romantic week end in Aquitaire? Work week in Bordeaux?...
+ details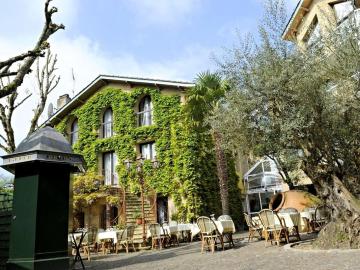 You are looking for a different kind of atmosphere, a place where you are sure to have a pleasant stay, quiet surroundin...
+ details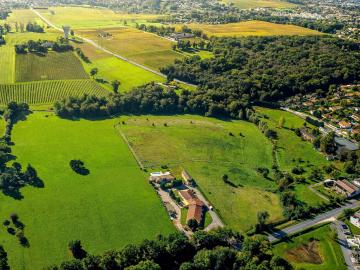 You are welcome at Gilles and Rosy. The Logis Hôtel Corintel Bordeaux Est is located in a quiet country setting where sh...
+ details

Halfway between Bordeaux and Saint-Emilion, in the heart of the Bordeaux vineyards, the Les Secrets Château Pey La Tour ...
+ details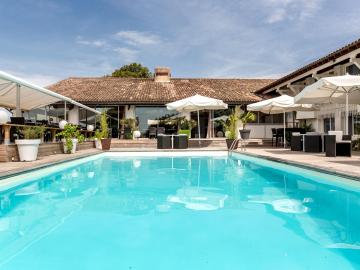 At the gates to Bordelais, Blaye, there is all the charm of another world, another era, of a town which looks over its r...
+ details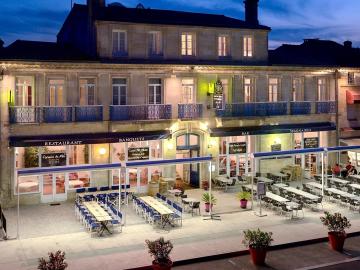 The Logis Hotel France et d'Angleterre is located in the heart of the most prestigious French vineyards, facing the mari...
+ details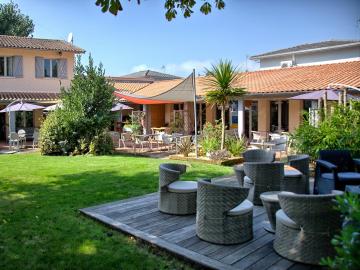 "Hotel Océana is a haven of peace and calm offering rest and relaxation in a pleasant and welcoming atmosphere. Our larg...
+ details

Situated in the confluent of Isle of the Dordogne, our « hotel restaurant » provides you with rooms personalized by two ...
+ details

The creation of our establishment dates back to 1910, when our maternal great-grandmother opened it's doors as an inn. T...
+ details
Discover France's regions. From your hotel you can visit the different sites near St Medard En Jalles in the department Gironde or organize the legs of your trip in cities based on your interests.
You will discover local specialities at the hotels in St Medard En Jalles thanks to your hosts' advice. You can discover the historical, cultural and gastronomic patrimony by treating yourself to regional recipes prepared by our chefs.
Upon arrival, you will take advantage of the comfort and conviviality of the quality accommodations by Logis hotel-restaurants in St Medard En Jalles.
Do wait any longer! Take advantage of our online reservation system and enjoy your holiday with peace of mind.
Hotel in ST MEDARD EN JALLES: discover the reviews of travellers
Activities and sightseeing in the area of ST MEDARD EN JALLES:
Galerie Art Céleste
Galerie D.X
Agapi
Workshop Citrouille, Drawing Classes And Painting
Arrêt sur l'Image Galerie
Galerie des Remparts
Village Notre-Dame
Galerie Bouillon d'art
UN MATIN D'AUTOMNE la boutique - Shopping et Relooking à Bordeaux
La galerie de créateurs
Means of transport near ST MEDARD EN JALLES:
Aéroport de Bordeaux-Mérignac
VOITURE TOURISME CHAUFFEUR AEROPORT BORDEAUX
Auto Moto École Taysse Fc Gradignan
British Airways
Paradrone
AIR NAWAK
Aérodrome de Libourne - Les Artigues de Lussac
ulm sensations
Skytanking Bordeaux
Airplus Helicoptères