hôtels Montpon menesterol
Your hotel in Montpon Menesterol
Book your hotel and restaurant in Montpon Menesterol among 2400 Logis establishments at a low price
ST MEDARD DE GUIZIERES 17 km
Book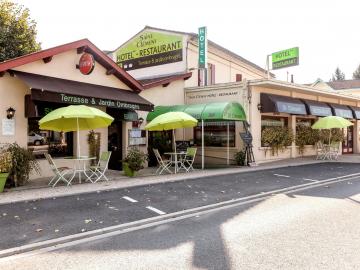 On the Compostella pilgrimage trail, at the heart of the vineyards of Saint-Emilion and Pomerol, between Libourne and Mo...
Welcome to the Château Fleur De Roques, nestling in our 4ha wine-growing estate in the Puisseguin Saint Emilion appellat...
ST PEY DE CASTETS 28 km
Book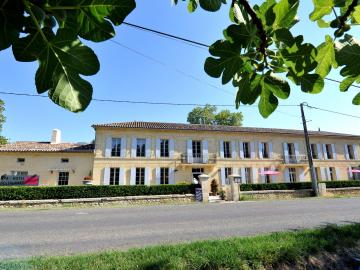 Located in Saint-Pey-de-Castets, 12 minutes' drive from the famous vineyards of Saint-Émilion, Hôtel l'Epicurial has a r...
AUBETERRE SUR DRONNE 29 km
Book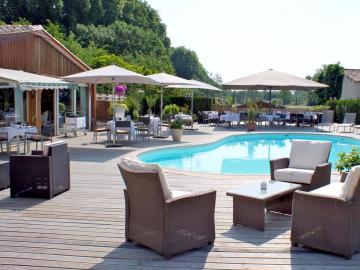 The Logis Hotel du Périgord, a small hotel and restaurant located in the picturesque village of Aubeterre sur Dronne cla...
Ludik for rêveurs, is an original hotel and bar concept, a few minutes from the town centre of Bergerac, on the Dordogne...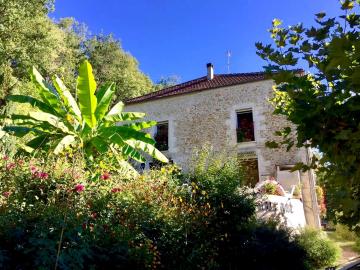 Welcome to this former stagecoach and post house, situated at the heart of the Percharmant vineyards. For a stopover or...
Situated in the confluent of Isle of the Dordogne, our « hotel restaurant » provides you with rooms personalized by two ...
MANZAC SUR VERN 34 km
Book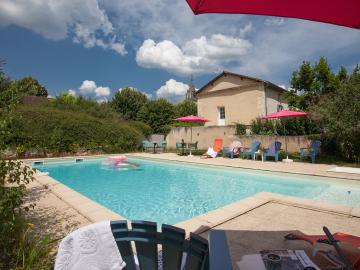 « Le Lion d'or » you accomodates all the year in the heart of Périgord Blanc in a framework of greenery and a feltel co...
Set in 50 hectares of wooded grounds, discover atmosphere, calm, comfort and relaxation at the Tropicana. Accommodation...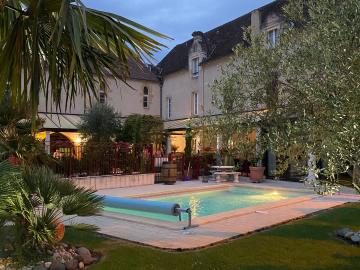 The Blanchet family has discovered in Duras a 19th century convent which they felt was the ideal place for them to show ...
RAZAC SUR L'ISLE 39 km
Book
The Sorbier hotel-restaurant is the all year opened. The rooms, 3*** standards, are air conditioned, new or renoved with...
ALLEMANS DU DROPT 43 km
Book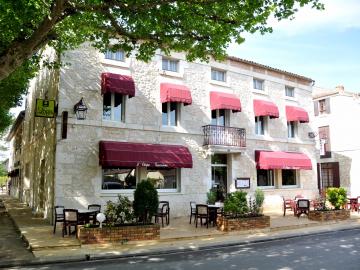 Hotel situated in a rural village, officially classified as a village of character. The charm of yesteryear....
Halfway between Bordeaux and Saint-Emilion, in the heart of the Bordeaux vineyards, the Les Secrets Château Pey La Tour ...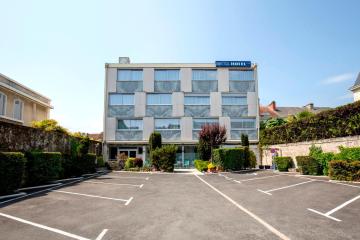 Welcome to Périgueux! Let us make you feel at home. Enjoy a moderne yet intimate hotel right at the centre of beautifu...
Discover France's regions. From your hotel you can visit the different sites near Montpon Menesterol in the department Dordogne or organize the legs of your trip in cities based on your interests.
You will discover local specialities at the hotels in Montpon Menesterol thanks to your hosts' advice. You can discover the historical, cultural and gastronomic patrimony by treating yourself to regional recipes prepared by our chefs.
Upon arrival, you will take advantage of the comfort and conviviality of the quality accommodations by Logis hotel-restaurants in Montpon Menesterol.
Do wait any longer! Take advantage of our online reservation system and enjoy your holiday with peace of mind.
Hotel in MONTPON MENESTEROL: discover the reviews of travellers
Activities and sightseeing in the area of MONTPON MENESTEROL:
Le Passage de la Cadène Sarl
GALERIE LE 5
Terres de Chabrouillas
Galerie Bénédicte Giniaux
Gallery Orange Bleue
VARI'ART
The Little Gallery
Gallery D'art, Serignac
Galerie Phi2
Atelier-Galerie CONTEMPORA
Means of transport near MONTPON MENESTEROL:
Aéroport Bergerac Dordogne Périgord
Aérodrome de Libourne - Les Artigues de Lussac
Track Ulm Du Pas De L'aze
Soc Exp Aeroport Bergerac-dord-perig
VOITURE TOURISME CHAUFFEUR AEROPORT BORDEAUX
ulm sensations
HEXAGON FLIGHT CORPORATE
Aérodrome de Chalais
Aérodrome de Ribérac - Saint-Aulaye