Your hotel in Aiguilles
Book your hotel and restaurant in Aiguilles among 2300 Logis establishments at a low price


MOLINES EN QUEYRAS 6 km
Book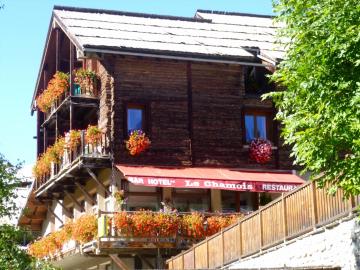 In the middle of a typically authentic village, Le Chamois welcomes guests to its pretty, non-smoking rooms, all equippe...
+ details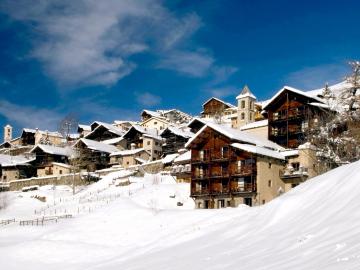 Les Chalets du Villard offers guests calm and space in its comfortable studio-rooms, all equipped with kitchen facilitie...
+ details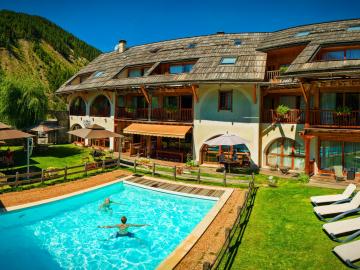 La Ferme de l'Izoard is a faithful reconstruction of the buildings of the Arvieux valley. It is located in the heart of ...
+ details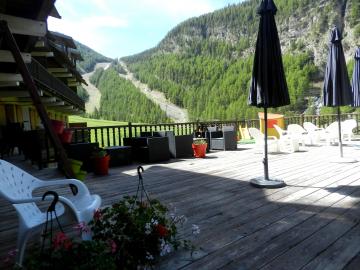 Ideally located in a small mountain hamlet, in the heart of the Queyras Regional Park, calm and nature at the rendezvous...
+ details

This charming hotel has been run by the same family for 5 generations. Soundproofed and bright rooms. The restaurant roo...
+ details

In the heart of the village of Sainte Marie and in the immediate vicinity of the ski slopes (150 metres away), this chal...
+ details

LA SALLE LES ALPES 30 km
Book
For the last three generations, we have put all our efforts into making our family hotel a cosy nest where generosity an...
+ details
A charming little hotel located at the heart of the old town and away from the main roads, fully-restored with highly-co...
+ details
Spacious and bathed in light, away from the town centre, just 150 metres from a magnificent man-made lake with beach and...
+ details
Located in the middle of nature, in a calm setting favourable to relaxing time, you will appreciate the swimming-pool, t...
+ details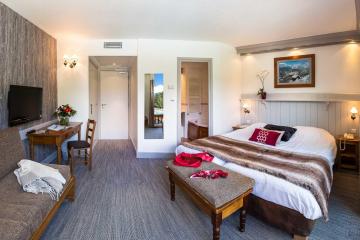 The hotel provides accommodation in 43 rooms. Modernised, air-conditioned and equipped with a new lift, the main buildin...
+ details

SAVINES LE LAC 46 km
Book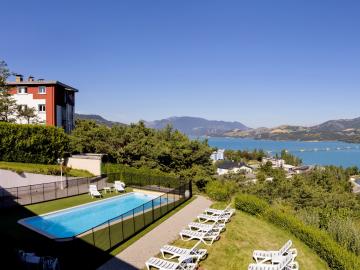 At the foot of the Morgon and by the Savine lake, the Eden Lac hotel waits for you and offers you a relaxing and resting...
+ details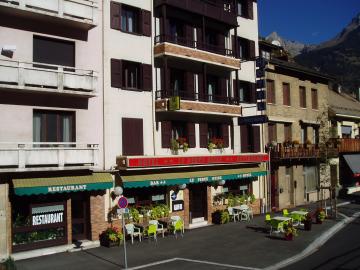 Our family-style hotel offers you the comfort of 18 sound-proofed rooms, all equipped with bath or shower, WC, cable TV ...
+ details
Discover France's regions. From your hotel you can visit the different sites near Aiguilles in the department Hautes Alpes or organize the legs of your trip in cities based on your interests.
You will discover local specialities at the hotels in Aiguilles thanks to your hosts' advice. You can discover the historical, cultural and gastronomic patrimony by treating yourself to regional recipes prepared by our chefs.
Upon arrival, you will take advantage of the comfort and conviviality of the quality accommodations by Logis hotel-restaurants in Aiguilles.
Do wait any longer! Take advantage of our online reservation system and enjoy your holiday with peace of mind.
Hotel in AIGUILLES: discover the reviews of travellers
Activities and sightseeing in the area of AIGUILLES:
Elisabetta Rosso | Fotografia di matrimonio, viaggi fotografici e corsi di fotografia
Galleria Civica d'Arte Contemporanea "Filippo Scroppo"
Studio Per L'Arte Contemporanea Tucci Russo
Tinber Art Gallery
Antichità Gioielleria COSTA Sestriere Oulx Torino
Galerie Atelier Annalina
L'Establon
Atelier d'art Claude Gouron, photographe auteur et artiste peintre
Metamediale Di Antonio Nunziante Srl
Simonetta Secci
Means of transport near AIGUILLES:
Pure Ski Company Sestriere
Aérodrome de Mont-Dauphin - Saint-Crépin
UCPA LA CLAPIERE RAFTING EMBRUN
Associazione Volovelistica Alpi Graie
Eliporto di emergenza del rifugio Vallanta
Hospital Helipad
Eliporto
Elisuperficie Sauze d'Oulx
Piazzola per elicotteri del Rifugio Vaccarone
Hospital Helipad