Your hotel in Sesto
Book your hotel and restaurant in Sesto among 2200 Logis establishments at a low price
SAN VIGILIO DI MAREBBE 32 km
Book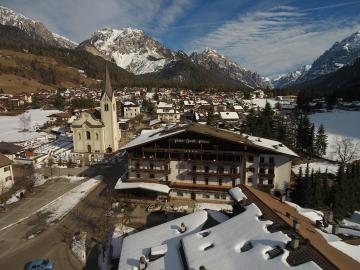 The Parc Hotel Posta enjoys an excellent location, right in the centre of San Vigilio di Marebbe, a pleasant setting als...
+ details
Discover Italy's regions. From your hotel you can visit the different sites near Sesto in the department Bolzano Bozen or organize the legs of your trip in cities based on your interests.
You will discover local specialities at the hotels in Sesto thanks to your hosts' advice. You can discover the historical, cultural and gastronomic patrimony by treating yourself to regional recipes prepared by our chefs.
Upon arrival, you will take advantage of the comfort and conviviality of the quality accommodations by Logis hotel-restaurants in Sesto.
Do wait any longer! Take advantage of our online reservation system and enjoy your holiday with peace of mind.
Hotel in SESTO: discover the reviews of travellers
Activities and sightseeing in the area of SESTO:
Al Plan Folk Festival
Farsettiarte Di Franco Farsetti & C. (S.A.S.)
ROSAR EYEWEAR
Contini Art Gallery
Variatio - Der Südtiroler Concept & Art Store.
ART is Weiskopf
I.T.V. Holz-Art Gallery
Salvadorini Ida
Contemporary&Co
arssanas
Means of transport near SESTO:
Flugschule Bruno Girstmair in Lienz Tirol
Landeplatz "Postleite"
Landeplatz Sillianer Drachenfliegerclub
Dobbiaco-Toblach Landeplatz
AEROPORTO DOBBIACO LIVD
ELISUPERFICIE Tre Cime di Lavaredo
Aeroporto internazionale Olimpiadi 2020 Cortina D'Ampezzo
Eliporto Fiames-Cortina d'Ampezzo
Elisuperficie Cadore
KronAir