hôtels Prato allo stelvio
Your hotel in Prato Allo Stelvio
Book your hotel and restaurant in Prato Allo Stelvio among 2300 Logis establishments at a low price
PONTE DI LEGNO 40 km
Book
The Palace Ponte di Legno, the result of a wise renovation of an ancient tourist colony, today is a modern resort that m...
+ details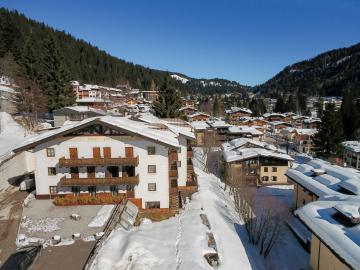 Surrounded by the beautiful scenery of the Brenta Dolomites, Hotel Perla, situated at about 1550 meters above sea level,...
+ details
Discover Italy's regions. From your hotel you can visit the different sites near Prato Allo Stelvio in the department Bolzano Bozen or organize the legs of your trip in cities based on your interests.
You will discover local specialities at the hotels in Prato Allo Stelvio thanks to your hosts' advice. You can discover the historical, cultural and gastronomic patrimony by treating yourself to regional recipes prepared by our chefs.
Upon arrival, you will take advantage of the comfort and conviviality of the quality accommodations by Logis hotel-restaurants in Prato Allo Stelvio.
Do wait any longer! Take advantage of our online reservation system and enjoy your holiday with peace of mind.
Hotel in PRATO ALLO STELVIO: discover the reviews of travellers
Activities and sightseeing in the area of PRATO ALLO STELVIO:
Projectspace70
Jordankeramik
WHITE art gallery
Galleria d'Arte Fedrizzi
Galleria D'Arte Moderna Fratelli Orler
Galerie Tschudi
Lleshi-Art
Guard'Art
Martin Geier Studio Geometra Bolzano
PINK GALLERY Lagundo / Merano
Means of transport near PRATO ALLO STELVIO:
Heliport Meran
Heli Austria GmbH
Dr. Adi Köhle
Aviosuperficie Passo Tonale
Altiporto del Passo Tonale
ELIMAST Tonale - Voli turistici in Elicottero
Aliporto Elisoccorso H Merano
Helipad
Helipad
Landeplatz