Your hotel in Erbusco
Book your hotel and restaurant in Erbusco among 2200 Logis establishments at a low price
TRESCORE BALNEARIO 14 km
Book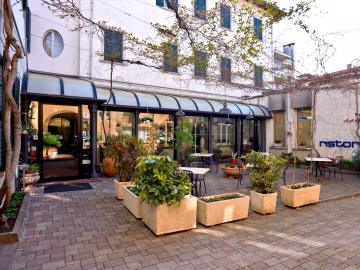 "Welcome to Hotel della Torre, the ideal destination for a holiday, work or study break. The hotel has been run by 5 suc...
+ details
Discover Italy's regions. From your hotel you can visit the different sites near Erbusco in the department Brescia or organize the legs of your trip in cities based on your interests.
You will discover local specialities at the hotels in Erbusco thanks to your hosts' advice. You can discover the historical, cultural and gastronomic patrimony by treating yourself to regional recipes prepared by our chefs.
Upon arrival, you will take advantage of the comfort and conviviality of the quality accommodations by Logis hotel-restaurants in Erbusco.
Do wait any longer! Take advantage of our online reservation system and enjoy your holiday with peace of mind.
Hotel in ERBUSCO: discover the reviews of travellers
Activities and sightseeing in the area of ERBUSCO:
CARMEN*TOWN
Galleria Ferrari Italia
Fava Antichità
Opposite Antico Moderno di Eugenio Baresi
Colores Del Alma Di Dora Lorenza
GAMeC
Di Mano in Mano
Agnellini Arte Moderna
Associazione Artisti Bresciani
casa d'asta di arte moderna
Means of transport near ERBUSCO:
Orio al Serio International Airport
Brescia Montichiari Airport
Parking Bergamo Orio al Serio - Travel Parking
Ghedi Air Base
Maver Viaggi
Airport "Sergio Aldo Capoferri" Valbrembo
Pilotaperungiorno S.r.l.
SCUOLA VOLO BRESCIA
Airport Global Service Spa
Aero Club Aeromodellisti Bergamo "Dino Sestini"