Your hotel in Ameglia
Book your hotel and restaurant in Ameglia among 2200 Logis establishments at a low price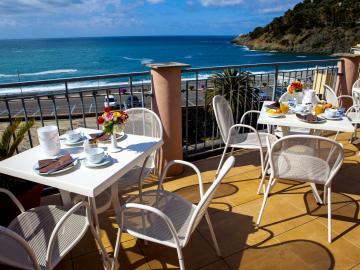 The natural gulf of Bonassola offers a deep blue sea, a wide beach of thin gravel and many coves embedded in a luxuriant...
+ details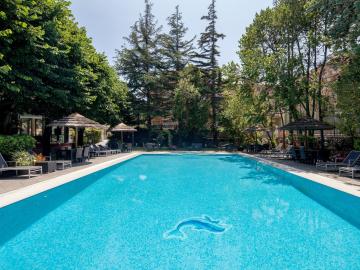 Just 50m from the sea, the hotel offers guests the promise of a comfortable and successful stay: garden, heated swimming...
+ details
Discover Italy's regions. From your hotel you can visit the different sites near Ameglia in the department La Spezia or organize the legs of your trip in cities based on your interests.
You will discover local specialities at the hotels in Ameglia thanks to your hosts' advice. You can discover the historical, cultural and gastronomic patrimony by treating yourself to regional recipes prepared by our chefs.
Upon arrival, you will take advantage of the comfort and conviviality of the quality accommodations by Logis hotel-restaurants in Ameglia.
Do wait any longer! Take advantage of our online reservation system and enjoy your holiday with peace of mind.
Hotel in AMEGLIA: discover the reviews of travellers
Opinion filed on 21-05-2022
Jacky F.
Séjour du 05/2022
un très bel hôtel un personnel formidable, juste envie de ne plus repartir !!!! ...
Activities and sightseeing in the area of AMEGLIA:
Menhir Srl
sound designer
Menchini Guido & F.Llo S.N.C.
Paola Raffo Arte Contemporanea
Galleria d'arte Enrico Paoli
ARTE IN MOVIMENTO
LABottega
GALLERIA D'ARTE Atelier di Silvia Garzonotti
Vallardi Galleria D'Arte di Gasparini Vittorio
Galleria Punto Arte by Maria Murgia
Means of transport near AMEGLIA:
Guardia Costiera Comando Base 1^ Sezione Aerea Sarzana Luni
Campo Volo Girofly Delta Condor
Il Ciocco - The Living Mountain
Distaccamento Aeroportuale Sarzana Luni
Aeroporto di Sarzana - Luni
Helipad
Comando Aeroporto Cadimare
Piazzola Elicotteri
Piazzola Elisoccorso Ospedale delle Apuane
Helipad