Your hotel in Paestum
Book your hotel and restaurant in Paestum among 2200 Logis establishments at a low price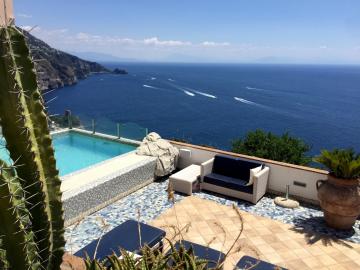 "Hotel Margherita is in an ideal location in Praiano on the Amalfi coast, looking out to sea with a magnificent view fro...
+ details
Discover Italy's regions. From your hotel you can visit the different sites near Paestum in the department Salerno or organize the legs of your trip in cities based on your interests.
You will discover local specialities at the hotels in Paestum thanks to your hosts' advice. You can discover the historical, cultural and gastronomic patrimony by treating yourself to regional recipes prepared by our chefs.
Upon arrival, you will take advantage of the comfort and conviviality of the quality accommodations by Logis hotel-restaurants in Paestum.
Do wait any longer! Take advantage of our online reservation system and enjoy your holiday with peace of mind.
Hotel in PAESTUM: discover the reviews of travellers
Activities and sightseeing in the area of PAESTUM:
Baccaro Art Gallery Di Toscano Maria
Galleria Paola Verrengia & C. S.N.C.
Mara Art Studio Caiella
Galleria D'Arte Il Catalogo
La Caravella Art Gallery
Arte Ceramica Paestum
Galleria D'arte Life Art Gallery
Francesco Cuomo
Provincial Pinacotheca of Salerno
Re d' Italia Art
Means of transport near PAESTUM:
Salerno Costa D'Amalfi Airport
Hoverfly divisione SAM
Aeroporto Di Salerno Spa
Aero Club Salerno
Salerno airport
Aviosuperficie Teggiano-Vallo di Diano
Campo Volo Fly Peppe
Campo Volo Altavillafly
Aviosuperficie del Sole
Elisuperficie Villa Cimbrone