Your hotel in Hagnau
Book your hotel and restaurant in Hagnau among 2200 Logis establishments at a low price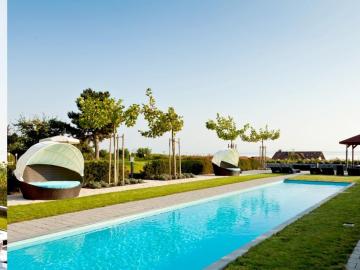 Hotel Burgunderhof, with a magnificent view of Lake Constance and the Swiss Alps, and its first organic wine-growing est...
+ details
Discover Germany's regions. From your hotel you can visit the different sites near Hagnau in the department Bade Wurtemberg or organize the legs of your trip in cities based on your interests.
You will discover local specialities at the hotels in Hagnau thanks to your hosts' advice. You can discover the historical, cultural and gastronomic patrimony by treating yourself to regional recipes prepared by our chefs.
Upon arrival, you will take advantage of the comfort and conviviality of the quality accommodations by Logis hotel-restaurants in Hagnau.
Do wait any longer! Take advantage of our online reservation system and enjoy your holiday with peace of mind.
Hotel in HAGNAU: discover the reviews of travellers
Activities and sightseeing in the area of HAGNAU:
Galerie Ueberlingen
Galerie Marktstätte
Galerie + Rahmen - Design Doppleb - Bilderrahmengeschäft Konstanz -Galerie Konstanz - Museumsglas
Städtische Wessenberg-Galerie
Maximiliane Creutzfeldt
Knittel F.
Galerie Geiger
Galerie Wesner
Kunstraum Kreuzlingen
Schmuckatelier-Welzl
Means of transport near HAGNAU:
Flughafen Friedrichshafen
Flugplatz Konstanz
Flug & Bild
Taxi Pfeifer FLUGHAFENTRANSFER
Taxi Pfeifer Flughafen und Langstrecken Taxi
TAXI Kreuzlingen TAXI ZiiL ( TG )
Old plane
Markdorf Fluggelände
Helikopterlandeplatz
Taxi Pfeifer Flughafen und Langstrecken Taxi