Your hotel in Vielsalm
Book your hotel and restaurant in Vielsalm among 2200 Logis establishments at a low price
Indulge in the gourmet delights of la Métairie, located in the small village of Wanne, in a traditional setting, nestled...
+ details


Authentic knowledge of our region, appreciation of its exceptional qualities and a real sense of welcome go hand in hand...
+ details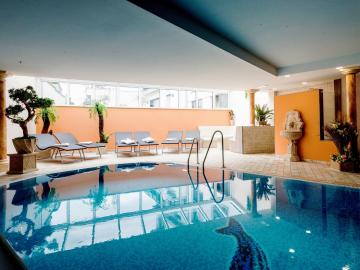 Family hotel in a historic town (completly destroyed in 1945). Total relaxation in a sauna with Whirlpool and Turkish ...
+ details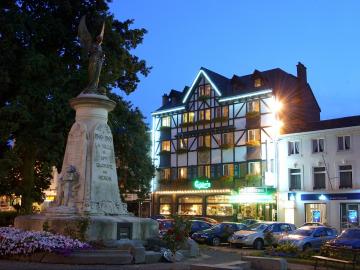 Come and explore Spa, in the middle of the Ardennes, just 40 minutes from Liège and 1 hour 30 minutes from Brussels. It'...
+ details


The 4-star Bütgenbacher-Hof LOGIS hotel is based in the centre of Bütgenbach, in a central and quiet location. The prese...
+ details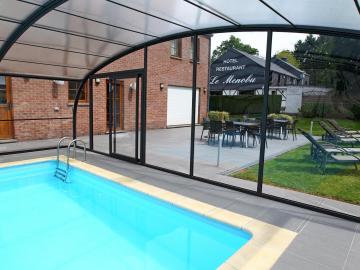 The Menobu is undoubtedly one of the best addresses in the region. We welcome you in a most relaxing green setting. The ...
+ details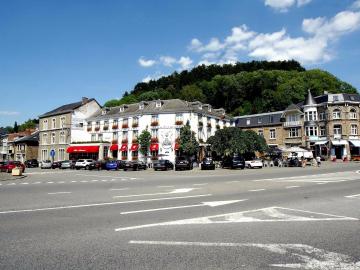 Nestling in Amblève valley in Ardenne, the Royal Hôtel Restaurant Bonhomme draws on the experience of eight generations ...
+ details

LA ROCHE EN ARDENNE 27 km
Book
Totally refurbished hotel (all rooms with bathroom/WC/TV/phone). Excellent restaurant with open fire and wine cellar ho...
+ details

LA ROCHE EN ARDENNE 28 km
Book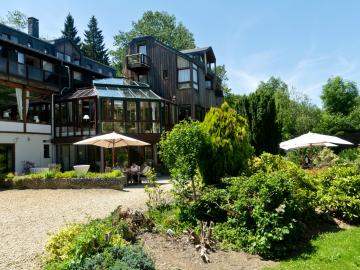 Charming and quiet hotel in a flower garden on the bank of the river....
+ details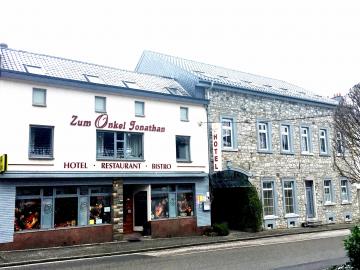 Menu renewed monthly. Possibilty to take a late night snack. Rooms in request....
+ details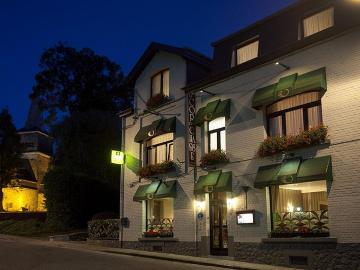 Just 150m from the centre of a little country town. Enjoy fine cooking in our warm and cosy house. Private, secure garag...
+ details
Discover Belgium's regions. From your hotel you can visit the different sites near Vielsalm in the department Vielsalm or organize the legs of your trip in cities based on your interests.
You will discover local specialities at the hotels in Vielsalm thanks to your hosts' advice. You can discover the historical, cultural and gastronomic patrimony by treating yourself to regional recipes prepared by our chefs.
Upon arrival, you will take advantage of the comfort and conviviality of the quality accommodations by Logis hotel-restaurants in Vielsalm.
Do wait any longer! Take advantage of our online reservation system and enjoy your holiday with peace of mind.
Hotel in VIELSALM: discover the reviews of travellers
Activities and sightseeing in the area of VIELSALM:
Cinéma Le Parc (Les Grignoux)
Cinéma Sauvenière (Les Grignoux)
Galerie AZUR - Galerie d'Art et Objets Cadeaux
Galerie Azur
Liehrmann / Danielle
Plunus / Audrey
Nemetz-bastin / Maggy
S.P.R.L Le Secret des Mousquetaires
Krippana
Espace17bis
Means of transport near VIELSALM:
Firebird
Piste Hélicoptère
Terrain d'atterrissage d'hélico CMH
Hélicoptère SMUR
Spa-La Sauvenière Airport
Büllingen Airfield
Verviers-Theux Airfield
Terrain de foot
Aérodrome de Noertrange
Airfield Dahlem Binz