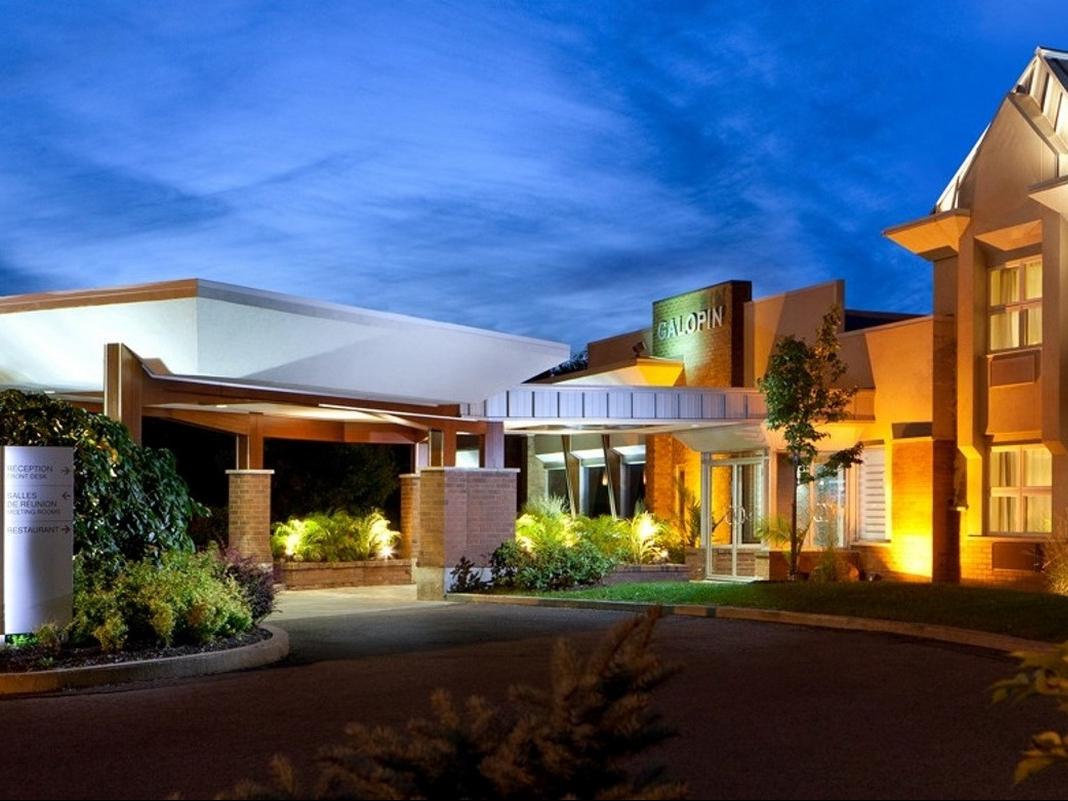 Ôrigine Hôtel Sépia
4
3135 Chemin Saint-Louis.
G1W 1R9
QUEBEC
See on the map

Air conditioning

Disabled access

Restaurant
See more
Your stay at the Ôrigine Hôtel Sépia
Favourites : A hotel combining comfort, design and accessibility, located in the heart of Quebec
The Ôrigine Hotel Sépia is a 4 star hotel, urban and modern, to discover in Quebec City. For a business or leisure stay, Le Sépia offers you the best for all your travel needs. Known for offering professional and personalized customer service in a warm and contemporary Read more
environment, the Sépia Boutique Hotel is the pride of a family business that has been in operation for more than 40 years, with people who are present and attentive to all your needs. A unique and quality decor will charm you, as well as a renowned and gourmet table that will make your stay unforgettable. Reduce
The hotel facilities and services
The must-haves
Services
All rooms with cable or satellite ou TNT
Facilities
Meeting and seminars facilities
Parking & Transport
Accessibility
Exterior
Interior equipment
Restaurant Le Galopin
A sure thing in Quebec City, the Galopin restaurant enjoys unparalleled success. Its strengths: refined and impeccable cuisine, unbeatable value for money and the ability to reinvent itself. Specializing in tartars and Quebecois cuisine, the Galopin restaurant also offers quality service in an atmosphere of proximity that tends to a more than successful evening.
Reserve my table
The restaurant facilities and services
The must-haves
Services
Parking & Transport
Interior equipment
Practical information
Access and Directions
You will be welcomed by
MmesM. Chantal/Carine/Daniel Nadeau
Hotel capacity : 81 Rooms
Spoken languages : English, French
Payment methods


Nearby places of interest
The Ôrigine Hôtel Sépia is located at the gateway to the bridges of Quebec City and close to the main roads, making it easy to get around in the Old Capital. Old Quebec is accessible in 15 minutes by car and you are about 5 minutes from the main shopping centres. The Quebec Aquarium is a 2-minute drive away and accessible on foot. The hotel is located about 5 minutes from the Promenade Samuel-De-Champlain which runs along the St. Lawrence River. It is an ideal place for walking, cycling, running and in-line skating. The Strom Spa remains a must-see. You can reach it by car in 15 minutes. The Musée de la Civilisation and the Musée National des Beaux-arts will also enhance your stay.
Frequently asked questions about the institution Ôrigine Hôtel Sépia
Does Ôrigine Hôtel Sépia have an on-site restaurant?
Your Ôrigine Hôtel Sépia establishment has 1 which offers a unique and different taste experience. Discover your favourite Restaurant Le Galopin restaurant
What accommodation can I book at the hotel Ôrigine Hôtel Sépia?
Ôrigine Hôtel Sépia has set up several accommodation packages that you can discover by entering the desired dates
What is the cost of a stay at the hotel Ôrigine Hôtel Sépia?
The Ôrigine Hôtel Sépia establishment offers very attractive prices for even more attractive options. The minimum price starts at EUR. Just enter your dates for more information about the rates!
Can I park a car at the Ôrigine Hôtel Sépia hotel?
Parking options are available to ensure better accessibility, subject to availability, for guests staying at the Ôrigine Hôtel Sépia :
Electrical terminal
Coach parking
What languages are spoken by the staff of the Ôrigine Hôtel Sépia hotel?
For optimal communication and to ensure that all your needs are met, the staff at Ôrigine Hôtel Sépia is equipped with the language skills to make you feel at home. Languages spoken:
How can I cancel my booking?
Cancellation is possible up to 48 hours before your arrival if your reservation has been made on logishotels.com and on the mobile application Logis Hôtels*,
With one click you can cancel from your booking confirmation email.
If not, please contact the establishment.

*Subject to the hotel's non specific booking conditions, only made from logishotels.com and within the cancellation deadlines in force.
Does Ôrigine Hôtel Sépia hotel have a meeting and seminar room?
Yes, this establishment has a well-equipped space to welcome your partners and clients for your meetings and seminars. Find out more by accessing this page for more information.
Do the rooms in the Ôrigine Hôtel Sépia hotel have air conditioning?
Yes, the rooms in this hotel have air conditioning. More details about air conditioning and other hotel facilities can be found on this page.
Does the Ôrigine Hôtel Sépia establishment have a restaurant service?
Yes, Ôrigine Hôtel Sépia offers: 1 restaurant(s), .
More info
Earn euros and support our hoteliers
For a week-end or a long stay in QUEBEC, make your booking in our Hôtel Ôrigine Hôtel Sépia QUEBEC in just a few clicks. Alone, with your family or with friends for your holidays or a short stay, come and discover the region and relax in Hôtel with all comforts.
scroll to