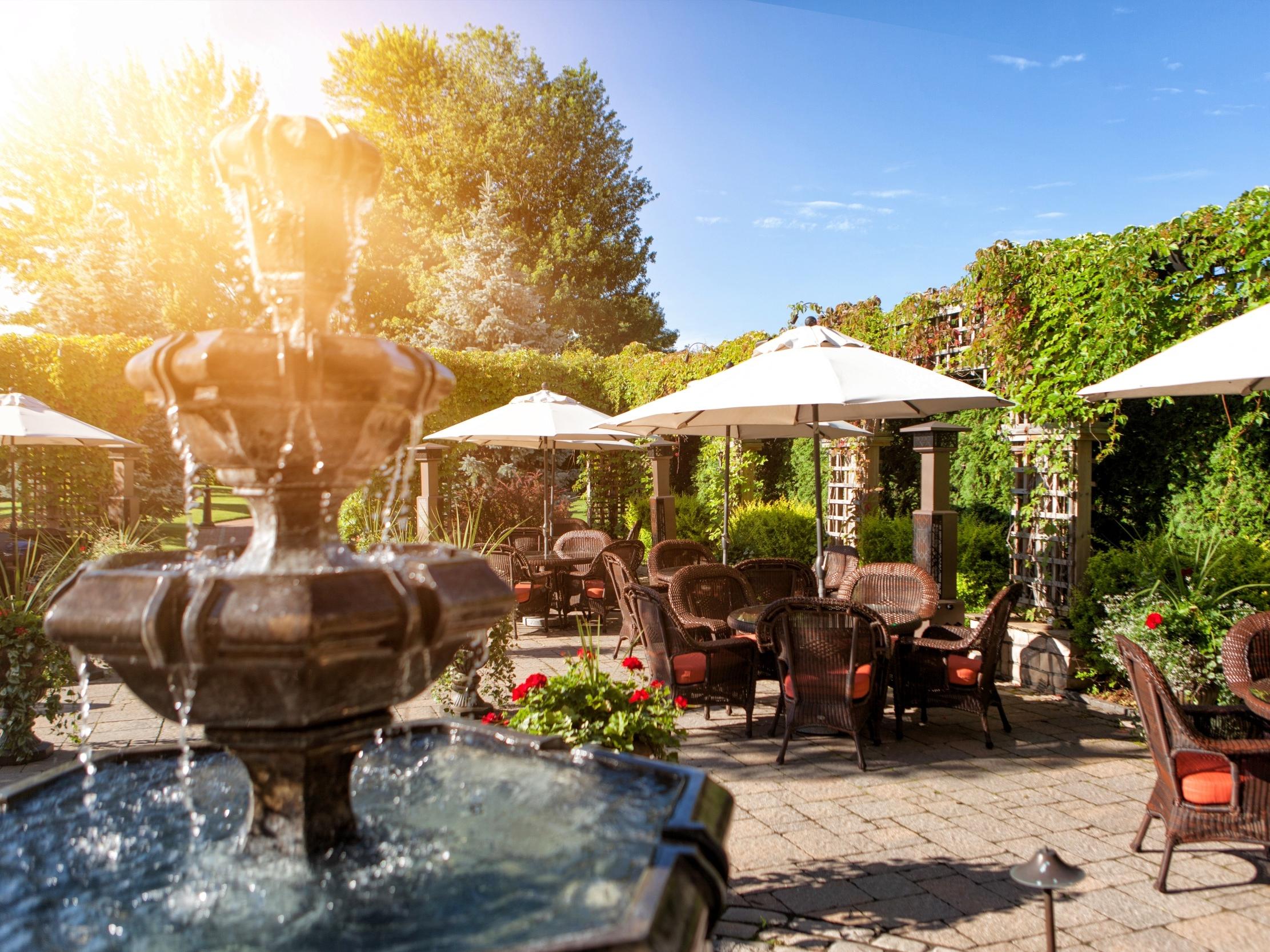 Ôrigine Auberge Godefroy
4
17575 Boulevard Bécancour.
G9H 1A5
BECANCOUR
See on the map

Your stay at the Ôrigine Auberge Godefroy
Favourites : Refined comfort, divine gastronomy and absolute relaxation at the Espace Aqua-Détente 4 Saisons!
On April 12, 1990, Auberge Godefroy opened its doors to its clientele for the very first time. Since then, it has always offered products and services of superior quality and seduced its customers with personalized service while remaining on the lookout for trends to ensure Read more
an exceptional stay! Located halfway between Montreal and Quebec City, only a few minutes from Trois-Rivières, Auberge Godefroy welcomes you in a warm atmosphere with cozy comfort and personalized services. It distinguishes itself by its amenities, services, delicate attention and the quality of an exclusive resort. It is a coveted destination for both relaxation and entertainment with its all-inclusive packages. Whether you are a couple, a family or a group of friends, everything you need for a memorable getaway. Reduce
Restaurant Auberge Godefroy
The Le Godefroy dining room offers a light and refined cuisine in a modern, chic and uncluttered decor. The executive chef and his brigade will concoct dishes using local Quebec products, with current trends and flavours, to make your dining experience a memorable one. Our team masters to perfection the art of mesmerizing the finest palates with gourmet dinners, breakfasts, varied brunches and a selection of sumptuous wines. Let them take care of reserving your table.
See more
The restaurant facilities and services
The must-haves
Services
Parking & Transport
Equipments
Multimedia
Accessibility
Business and events
Meeting and seminars facilities
Family
Practical information
Access and Directions
You will be welcomed by
Mme Marie-Eve Boisclair
Hotel capacity : 71 Rooms
Spoken languages : English, French
Payment methods


Nearby places of interest
In addition to the activities on site, less than 10 minutes away there are a wide range of attractions to satisfy all tastes. Museums, amusement park, golf courses, horseback riding, outdoor activities with walking trails, shopping, restaurants, art galleries and specialized boutiques.
Frequently asked questions about the institution Ôrigine Auberge Godefroy
Does Ôrigine Auberge Godefroy have an on-site restaurant?
Your Ôrigine Auberge Godefroy establishment has 1 which offers a unique and different taste experience. Discover your favourite Restaurant Auberge Godefroy restaurant
What accommodation can I book at the hotel Ôrigine Auberge Godefroy?
Ôrigine Auberge Godefroy has set up several accommodation packages that you can discover by entering the desired dates
What is the cost of a stay at the hotel Ôrigine Auberge Godefroy?
The Ôrigine Auberge Godefroy establishment offers very attractive prices for even more attractive options. The minimum price starts at EUR. Just enter your dates for more information about the rates!
Can I park a car at the Ôrigine Auberge Godefroy hotel?
Parking options are available to ensure better accessibility, subject to availability, for guests staying at the Ôrigine Auberge Godefroy :
Free Private Car park
Electrical terminal
Coach parking
What languages are spoken by the staff of the Ôrigine Auberge Godefroy hotel?
For optimal communication and to ensure that all your needs are met, the staff at Ôrigine Auberge Godefroy is equipped with the language skills to make you feel at home. Languages spoken:
How can I cancel my booking?
Cancellation is possible up to 48 hours before your arrival if your reservation has been made on logishotels.com and on the mobile application Logis Hôtels*,
With one click you can cancel from your booking confirmation email.
If not, please contact the establishment.

*Subject to the hotel's non specific booking conditions, only made from logishotels.com and within the cancellation deadlines in force.
Does Ôrigine Auberge Godefroy hotel have a lift(s)?
This hotel offers a lift(s) for easy access to your room as well as several facilities. More details on the hotel's facilities are available on this page.
Does Ôrigine Auberge Godefroy hotel have a meeting and seminar room?
Yes, this establishment has a well-equipped space to welcome your partners and clients for your meetings and seminars. Find out more by accessing this page for more information.
Earn euros and support our hoteliers
For a week-end or a long stay in QUEBEC, make your booking in our Hôtel Ôrigine Auberge Godefroy at BECANCOUR in just a few clicks. Alone, with your family or with friends for your holidays or a short stay, come and discover the region and relax in Hôtel with all comforts.
scroll to