COVID-19 information
Following announcements 12/07 from the French government: Sanitary pass not required in the accommodation part of our establishments but mandatory in bars and restaurants. More info.
Your health is our top priority: All sanitary measures are applied for you and for those who welcome you. Find out the "Safer Stay" index.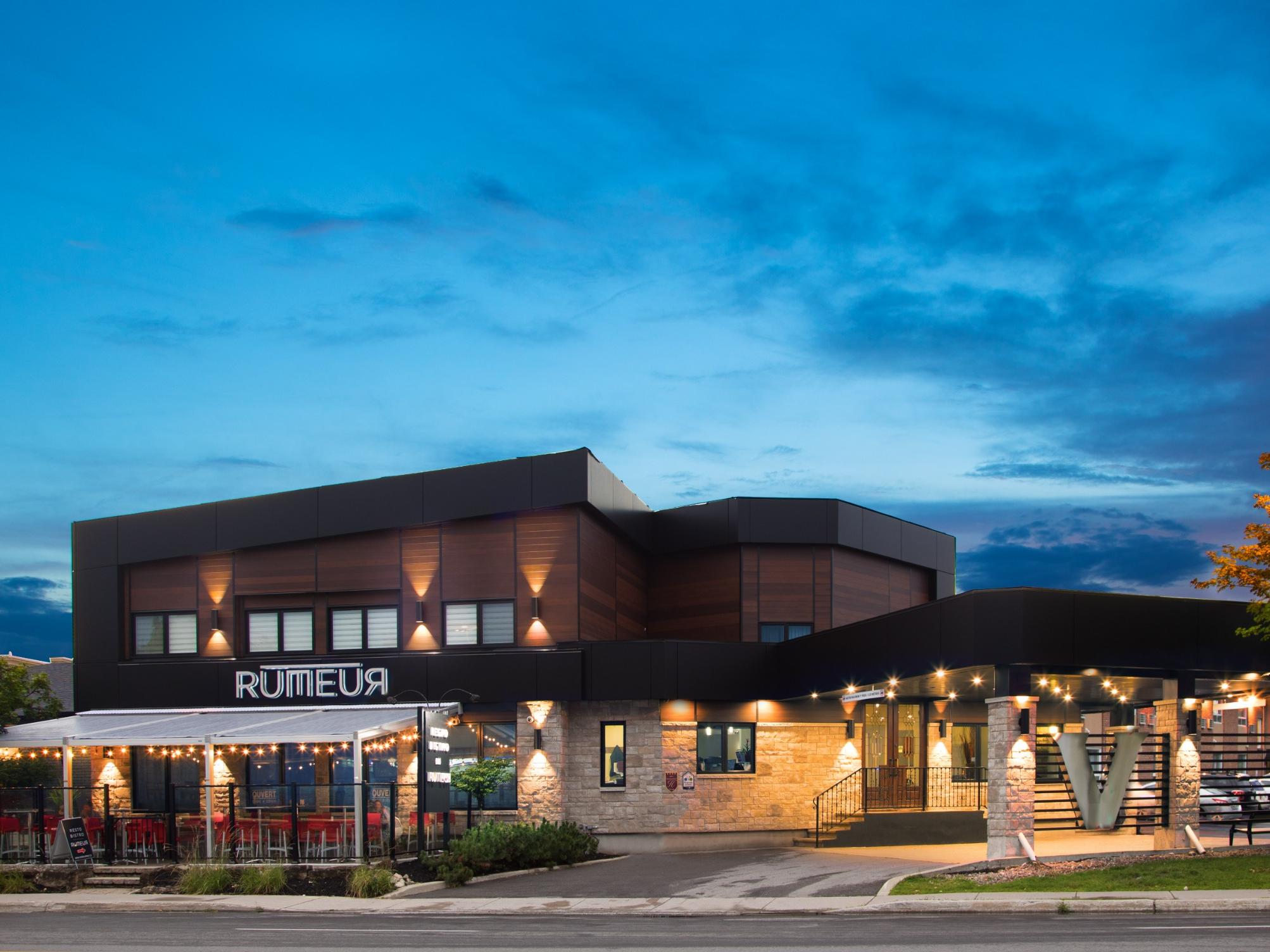 WIFI
Private Parking
Air conditioning
Disabled access
Ôrigine Hôtel V
4
585 Boulevard de la Gappe.
J8T 8N7
GATINEAU

Your stay at the Ôrigine Hôtel V
The Ôrigine Hôtel V in Gatineau offers you the opportunity to stay in a modern hotel with a contemporary design, featuring 88 comfortable rooms, recently renovated and refurbished. Located in the magnificent Outaouais region, only minutes from Ottawa, this 4-star establishment Read more
provides well-being and comfort to its visitors. Whether you're on business, a family or couple's stopover, or on holiday, this stylish hotel ensures a unique visit tailored to you and your loved ones. We have added an outdoor spa, sauna and two relaxation areas with fireplaces. Enjoy a relaxing moment in a lounge environment during your next stay with us. Enjoy a spa experience in the heart of Gatineau! Reduce
The hotel facilities and services
WIFI in every room free*
All rooms with cable or satellite ou TNT
Facilities
Fitness center
Meeting and seminars facilities
Accessibility
Hotel suitable for the disabled
Parking & Transport
Interior equipment
Air-conditioning only in rooms
Restaurant Hôtel V
The Resto Bistro Rumeur located in the Hôtel V in Gatineau is the destination of choice to enjoy a good meal in a warm and relaxed atmosphere. It serves the 3 must-try meals of the day, every day of the week. Its plates will make your mouth water with their presentation and the sought-after combination of ingredients, each one tastier than the next. For more than 10 years, we have been striving to provide memorable dining experiences for our customers. We have a beautiful dining room that is both Read more
elegant and inviting, suitable for intimate meals as well as for groups and families. The perfect place to celebrate, chat or seduce, while enjoying the delicious menus prepared by our chefs. We also have a beautiful bistro-bar section for friends, couples, singles, all of whom enjoy the warm atmosphere of our lounge bar. The ideal place to have a drink, taste our bistro menu, watch a game or chat with friends, in all simplicity. During the summer months, we have 2 outdoor terraces; the front terrace has a lively, urban atmosphere. A true extension of the dining room, it has a retractable roof, which allows you to enjoy the sun as you wish in the morning and at noon. Adjacent to the bar and covered, the back terrace is quieter, located in our inner courtyard, not far from the Urban Spa, and the sun warms it up at the end of the day! Two perfect places to get some fresh air while enjoying an excellent meal, a good drink or simply a coffee! Reduce
Reserve my table
The restaurant facilities and services
WIFI at the restaurant Free
Facilities
Meeting and seminars facilities
Parking & Transport
Practical information
Access and Directions
Reception
You will be welcomed by

M. Dany St-Jean

Hotel capacity : 88 Rooms
Spoken languages : English, French
Payment methods


Nearby places of interest
With some 300 kilometres of marked recreational trails and bike paths, Gatineau is a great place to ride the Trans-Canada Trail and the Route verte. Hotel V is a "Bienvenue Cyclistes" certified establishment. "V" offers quick access to the Rapibus and Route Verte bike paths. A few meters from the hotel is a station that provides a direct link to the main attractions and downtown areas of Hull and Ottawa. In Gatineau Park, expend your energy on the trails by bike or on foot in summer and on cross-country skis or snowshoes in winter. It is possible to rent several outdoor equipments at the park's kiosks, including; Canoe, Kayak, Snowshoe, Skate, etc. You have four seasons and hundreds of outdoor activities to enjoy. Several museums are located close to the hotel (a car or use of public transportation required) Canadian Museum of History, Museum of Nature. War Museum, Canada Aviation and Space Museum. Microbrasserie du Bas-Canada (within walking distance of Hotel V), Les Brasseurs de Montebello (1 or more products available at the Hotel V restaurant), Les Brasseurs du Temps, Le Gainsbourg, Microbrasserie Gallicus, Microbrasserie 5e Baron, Artist in Residence distillery (1 or more products available at the Hotel V restaurant), and more. Nearby is Les Promenades de Gatineau with over 150 shops and a 750-seat food court. Gatineau Hot Air Balloon Festival, Gatineau Humour Festival, Riverside (electro music festival), Winterlude, Marché de Noël d'antan.
Frequently asked questions about the institution Ôrigine Hôtel V
Does Ôrigine Hôtel V have an on-site restaurant?
Your Ôrigine Hôtel V establishment has 1 which offers a unique and different taste experience. Discover your favourite Restaurant Hôtel V restaurant
What activities does Hotel Ôrigine Hôtel V offer ?
This establishment offers a wide range of activities and services for a wellness and adrenaline-filled experience. Here is a list (fees may apply):
Fitness center
Bubble baths
Sauna, turkish bath
What accommodation can I book at the hotel Ôrigine Hôtel V ?
Ôrigine Hôtel V has set up several accommodation packages that you can discover by entering the desired dates
What is the cost of a stay at the hotel Ôrigine Hôtel V ?
The Ôrigine Hôtel V establishment offers very attractive prices for even more attractive options. The minimum price starts at EUR. Just enter your dates for more information about the rates!
Can I park a car at the Ôrigine Hôtel V hotel ?
Parking options are available to ensure better accessibility, subject to availability, for guests staying at the Ôrigine Hôtel V :
What languages are spoken by the staff of the Ôrigine Hôtel V hotel ?
For optimal communication and to ensure that all your needs are met, the staff at Ôrigine Hôtel V is equipped with the language skills to make you feel at home. Languages spoken:
How can I cancel my booking ?
Cancellation is possible up to 48 hours before your arrival if your reservation has been made on logishotels.com and on the mobile application Logis Hôtels*,
With one click you can cancel from your booking confirmation email.
If not, please contact the establishment.

*Subject to the hotel's non specific booking conditions, only made from logishotels.com and within the cancellation deadlines in force.
Is the Ôrigine Hôtel V hotel accessible to people with reduced mobility ?
Yes, this hotel has access for people with special needs with facilities and services to make the journey easier and more enjoyable in the case of :
Hotel suitable for the disabled
Does Ôrigine Hôtel V hotel have a meeting and seminar room ?
Yes, this establishment has a well-equipped space to welcome your partners and clients for your meetings and seminars. Find out more by accessing this page for more information.
Earn euros and support our hoteliers
For a week-end or a long stay in QUEBEC, make your booking in our Hôtel Ôrigine Hôtel V GATINEAU in just a few clicks. Alone, with your family or with friends for your holidays or a short stay, come and discover the region and relax in Hôtel with all comforts.
scroll to