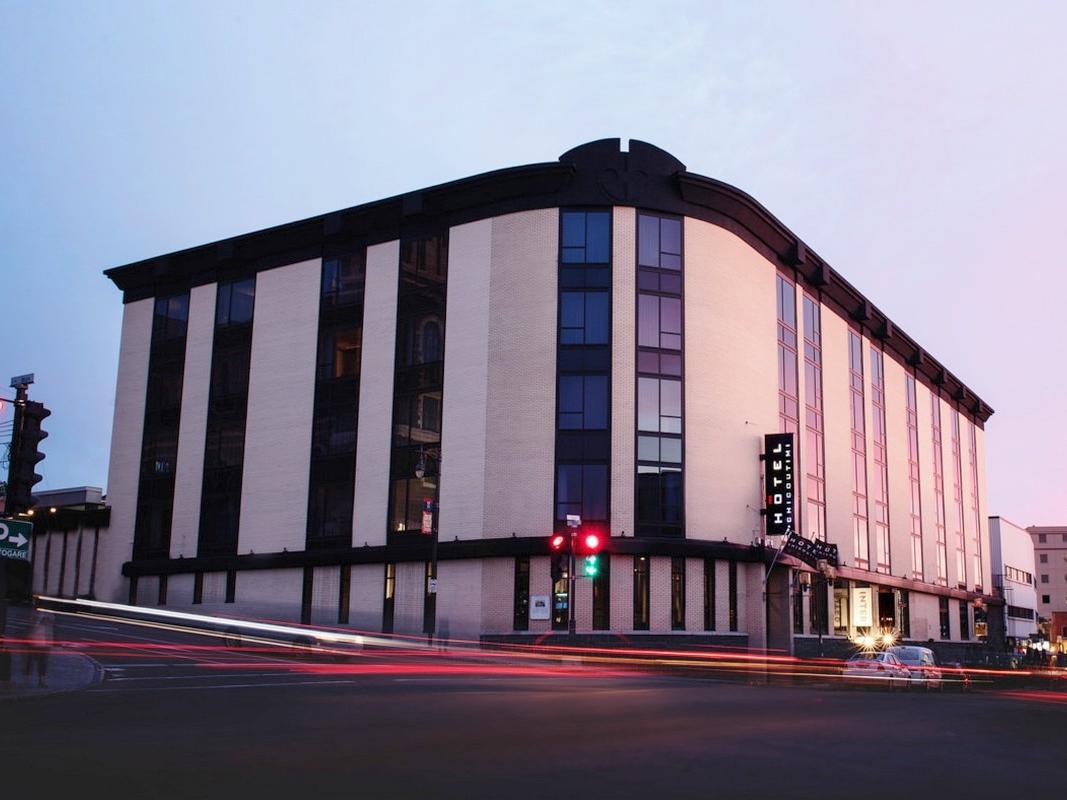 Ôrigine Hôtel Chicoutimi
4
460 Racine Est.
G7H 1T7
CHICOUTIMI
See on the map

Your stay at the Ôrigine Hôtel Chicoutimi
Favourites : A century-old signature hotel in the heart of downtown Chicoutimi
Located in the heart of downtown Saguenay, the Ôrigine Hôtel Chicoutimi has been a true icon of the urban landscape for nearly 120 years. Our four-star hotel is appreciated by our guests for its location and its spacious and modern rooms, its diversified cuisine that can Read more
be enjoyed in four restaurants, its cultural animation and its commitment to sustainable development. The hardest part? Choosing your view. The immensity of the Fjord, the action of Racine Street or the soothing Cathedral? Here, every detail is thought out for the pleasure of our guests. We sleep well, we eat well and we are amazed by the little extras, your stay can only be a success. Here we do not receive clients, but our guests. Reduce
The hotel facilities and services
The must-haves
Services
Parking & Transport
Equipments
Multimedia
Wellness
Accessibility
Business and events
Meeting and seminars facilities
Family
Restaurant Chicoutimi
L'Inter: located on the ground floor on the Racine side of the complex, it offers a renowned table, fresh lunches and dinners, numerous choices of beer and a wide variety of wines. Make room for lightness, freshness, crunchy salads, fine charcuterie and fresh pasta, and enjoy our large outdoor terrace in the summer.
Rouge burger bar: offers customers the opportunity to enjoy a diversified, ethical and local diet by offering a "comfort food" type menu. With its friendly atmosphere, sports broadcast Read more
ing, contemporary and comfortable look, the Rouge burger bar offers customers the opportunity to revisit one of the great classics of contemporary cuisine while promoting local and sustainable food production.
The Gallery: An art gallery? A restaurant? A reception room? A conference room? Whatever you like! The Chicoutimi Hotel Gallery offers you whatever atmosphere you wish to have. On the walls as well as on your plate, one thing is certain: our artists are at work!
Fabbrica: offers authentic ice creams and sorbets. Ice creams that respect the purest Italian tradition. Reduce
See more
Practical information
Access and Directions
You will be welcomed by
M. Eric Larouche
Hotel capacity : 86 Rooms
Spoken languages : English, French
Nearby places of interest
Our history is Chicoutimi's history. One hundred years ago, the Hotel was a reference in terms of accommodation and that is what inspires us now. To restore the luster that our establishment had in its early days. On Racine Street, the Chicoutimi Hotel, built in 1899 by Mr. Joseph Néron, continues to be a pillar of lodging, dining and entertainment. As a cultural crescent, our establishment is central to the activities available in the region. Whether you're an adventurer, a sportsman, an artist or just a cozy person, we have the experience you're looking for. For your next holiday, enjoy an impressive number of activities and festivals in the Saguenay - Lac-Saint-Jean. There's no denying it. Tourism is happening in Saguenay - Lac-Saint-Jean! Summer or winter, the countless tourist attractions make Saguenay - Lac-Saint-Jean the holiday destination par excellence.
Frequently asked questions about the institution Ôrigine Hôtel Chicoutimi
Does Ôrigine Hôtel Chicoutimi have an on-site restaurant?
Your Ôrigine Hôtel Chicoutimi establishment has 1 which offers a unique and different taste experience. Discover your favourite Restaurant Chicoutimi restaurant
What accommodation can I book at the hotel Ôrigine Hôtel Chicoutimi?
Ôrigine Hôtel Chicoutimi has set up several accommodation packages that you can discover by entering the desired dates
What is the cost of a stay at the hotel Ôrigine Hôtel Chicoutimi?
The Ôrigine Hôtel Chicoutimi establishment offers very attractive prices for even more attractive options. The minimum price starts at EUR. Just enter your dates for more information about the rates!
Can I park a car at the Ôrigine Hôtel Chicoutimi hotel?
Parking options are available to ensure better accessibility, subject to availability, for guests staying at the Ôrigine Hôtel Chicoutimi :
Free Private Car park
Car Electrical terminal
Coach parking
Are pets allowed at the Ôrigine Hôtel Chicoutimi hotel?
Yes, your little companions can accompany you during your stay at Ôrigine Hôtel Chicoutimi.
What languages are spoken by the staff of the Ôrigine Hôtel Chicoutimi hotel?
For optimal communication and to ensure that all your needs are met, the staff at Ôrigine Hôtel Chicoutimi is equipped with the language skills to make you feel at home. Languages spoken:
How can I cancel my booking?
Cancellation is possible up to 48 hours before your arrival if your reservation has been made on logishotels.com and on the mobile application Logis Hôtels*,
With one click you can cancel from your booking confirmation email.
If not, please contact the establishment.

*Subject to the hotel's non specific booking conditions, only made from logishotels.com and within the cancellation deadlines in force.
Does Ôrigine Hôtel Chicoutimi hotel have a lift(s)?
This hotel offers a lift(s) for easy access to your room as well as several facilities. More details on the hotel's facilities are available on this page.
Does Ôrigine Hôtel Chicoutimi hotel have a meeting and seminar room?
Yes, this establishment has a well-equipped space to welcome your partners and clients for your meetings and seminars. Find out more by accessing this page for more information.
Earn euros and support our hoteliers
For a week-end or a long stay in QUEBEC, make your booking in our Hôtel Ôrigine Hôtel Chicoutimi at CHICOUTIMI in just a few clicks. Alone, with your family or with friends for your holidays or a short stay, come and discover the region and relax in Hôtel with all comforts.
scroll to