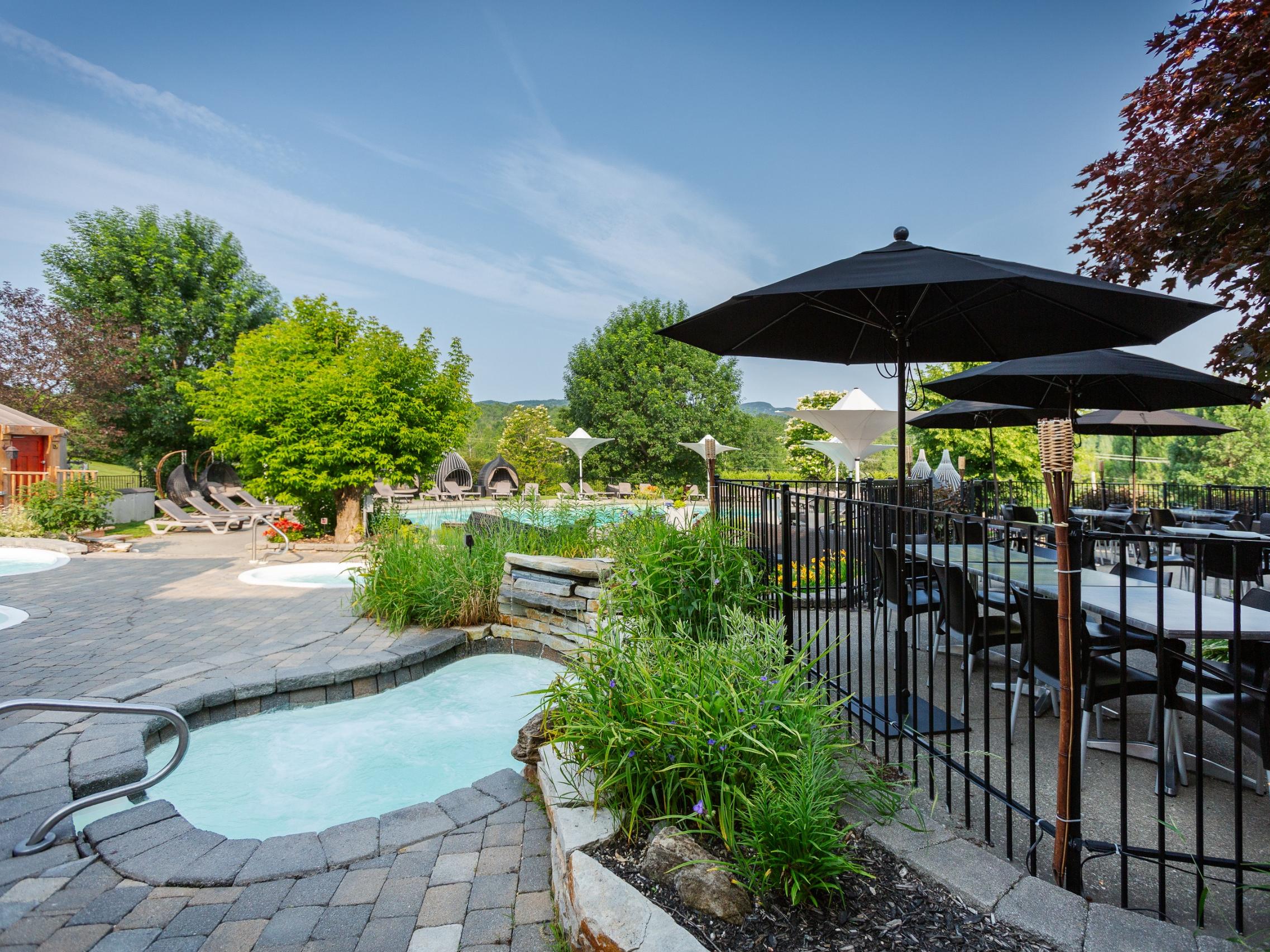 Ôrigine Estrimont Suites & Spa
4
44 Avenue de l'Auberge.
J1X 6J3
ORFORD
See on the map

Your stay at the Ôrigine Estrimont Suites & Spa
Favourites : Discover this enchanting place in the Eastern Townships, a few minutes from Mount Orford!
The hotel facilities and services
Parking & Transport
Equipments
Multimedia
Cable or satellite ou TNT
for all rooms
Wellness
Massage / Treatments (in cabin)
Accessibility
Business and events
Meeting and seminars facilities
Restaurant Tomahawk Grill
The brand new steakhouse offers several spaces to gather: the terrace, the bistro, the lounge and the dining room with a view of Mount Orford. But what makes travellers happy are the slates of meat and fish to share, as well as the tasty seafood from the Tomahawk grill. With talent and passion, Executive Chef Badr Bourabaa and his team have created a varied menu incorporating many suggestions from the clientele. The art of entertaining for the service staff is to leave a positive imprint on the customer Read more
experience. For the kitchen staff, it is to create dishes that are as attractive as they are tasty. The friendly atmosphere of the Tomahawk grill will make you live a perfect moment with your family, friends or loved ones. Reduce
See more
Practical information
Access and Directions
You will be welcomed by
M. François Dallaire
Hotel capacity : 95 Rooms
Spoken languages : English, French
Payment methods


Nearby places of interest
L'Estrimont Suites & Spa is located a few steps away from Mount Orford National Park to enjoy activities in all seasons (hiking, bird and animal observation, swimming, snowshoeing, cross-country skiing, oversized wheeled bikes, etc.). Also take advantage of the proximity of Mount Orford to ski with friends or family at only 6 km from the hotel. The small town of Orford has an exceptional cachet with its shops, chocolate factory, vineyard, microbrewery, antique dealers and more. Visit also the magnificent city of Magog and its trail along Lake Memphremagog. Take a unique gastronomic cruise along the lake and discover the restaurants and boutiques on the main street. Experience an exceptional hotel complex close to the most beautiful attractions of the Eastern Townships.
Frequently asked questions about the institution Ôrigine Estrimont Suites & Spa
Does Ôrigine Estrimont Suites & Spa have an on-site restaurant?
Your Ôrigine Estrimont Suites & Spa establishment has 1 which offers a unique and different taste experience. Discover your favourite Restaurant Tomahawk Grill restaurant
What accommodation can I book at the hotel Ôrigine Estrimont Suites & Spa?
Ôrigine Estrimont Suites & Spa has set up several accommodation packages that you can discover by entering the desired dates
What is the cost of a stay at the hotel Ôrigine Estrimont Suites & Spa?
The Ôrigine Estrimont Suites & Spa establishment offers very attractive prices for even more attractive options. The minimum price starts at EUR. Just enter your dates for more information about the rates!
Can I park a car at the Ôrigine Estrimont Suites & Spa hotel?
Parking options are available to ensure better accessibility, subject to availability, for guests staying at the Ôrigine Estrimont Suites & Spa :
Free Private Car park
Car Electrical terminal
What languages are spoken by the staff of the Ôrigine Estrimont Suites & Spa hotel?
For optimal communication and to ensure that all your needs are met, the staff at Ôrigine Estrimont Suites & Spa is equipped with the language skills to make you feel at home. Languages spoken:
How can I cancel my booking?
Cancellation is possible up to 48 hours before your arrival if your reservation has been made on logishotels.com and on the mobile application Logis Hôtels*,
With one click you can cancel from your booking confirmation email.
If not, please contact the establishment.

*Subject to the hotel's non specific booking conditions, only made from logishotels.com and within the cancellation deadlines in force.
Does Ôrigine Estrimont Suites & Spa hotel have a lift(s)?
This hotel offers a lift(s) for easy access to your room as well as several facilities. More details on the hotel's facilities are available on this page.
Does Ôrigine Estrimont Suites & Spa hotel have a meeting and seminar room?
Yes, this establishment has a well-equipped space to welcome your partners and clients for your meetings and seminars. Find out more by accessing this page for more information.
Earn euros and support our hoteliers
For a week-end or a long stay in QUEBEC, make your booking in our Hôtel Ôrigine Estrimont Suites & Spa at ORFORD in just a few clicks. Alone, with your family or with friends for your holidays or a short stay, come and discover the region and relax in Hôtel with all comforts.
scroll to