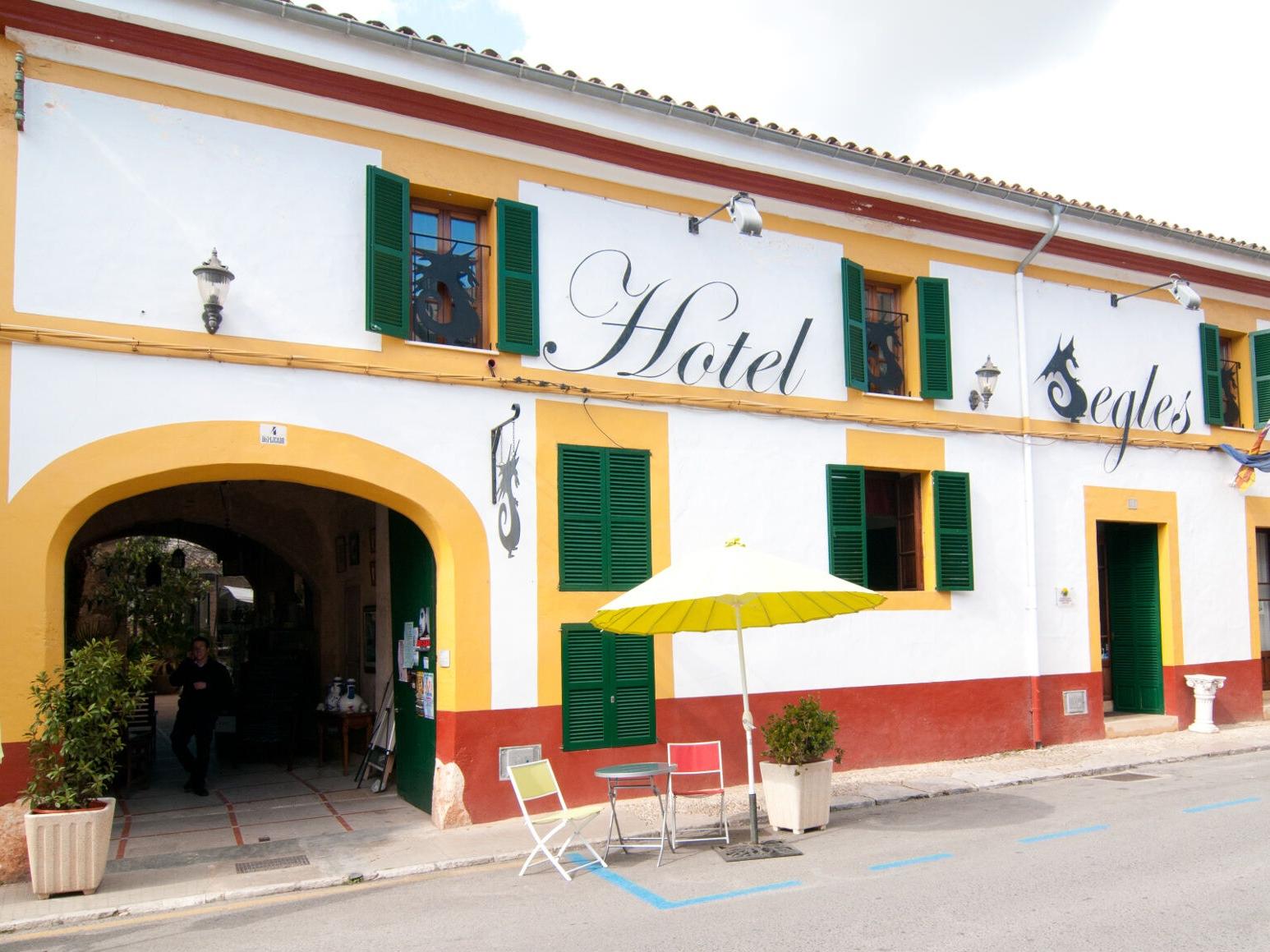 Logis Hotel Segles
4
Calle Santanyi, 4.
07630
CAMPOS
See on the map
Business Stopover

Arrival and departure

Arrival from 13:30, Departure at 12:00
See more
Your stay at the Logis Hotel Segles
Favourites : Noble Majorcan house dating from 1551, ideally located near to the most beautiful beaches of the island such as "Es Trenc. Its enjoys a solarium and indoor swimming pool
The Segles Hotel is located in the centre of Campos, a few kilometres from the untouched beaches of "Es Trenc" island, well connected with the whole island by road, and close to cyclo-tourism routes. More than a small hotel, it's a very well preserved, noble Mallorcan Read more
house from 1551. The structure respects the traditional autochthonous architecture and retains a large part of its old furniture. Its large central patio has a garden and a small bar where you can enjoy a good coffee or our typical "pa amb oli" (bread in oil), salads, sandwiches etc. At the weekend, you can try our crepes. The Hotel has a solarium and an indoor swimming pool. The 8 rooms are completely different, in terms of furniture and layout. They all have modern facilities like a flat-screen TV, wifi, hair-dryer, hot and cold air conditioning, minibar, kettle to make herbal teas or teas, telephone, facilities in the bathroom etc. And if needed, we can lend you slippers, a bathrobe and/or a bath towel. Reduce

What is a Logis Cosy ?
An inviting, cocooning atmosphere
The hotel facilities and services
The must-haves
Arrival and departure
Departure at the latest at 12:00h
Services
Equipments
Multimedia
Cable or satellite ou TNT
for all rooms
Wellness
Business and events
Meeting and seminars facilities
Family
Breakfast

Enjoy the benefits of the ETIK loyalty programme
Discover the advantages
Hide the advantages
A totally free loyalty programme
The opportunity to earn euros, both in the hotel and in the restaurant, from the first euro spent
The possibility to spend your euros in all our hotels and restaurants
Earn up to 5.5% of your stay by booking in this establishment!
Select your dates of stay
Practical information
Access and Directions
Opening Hours
Establishment hours
Monday:00:01-23:59
Tuesday:00:01-23:59
Wednesday:00:01-23:59
Thursday:00:01-23:59
Friday:00:01-23:59
Saturday:00:01-23:59
Sunday:00:01-23:59
Arrival and departure
Arrival from 13:30, Departure at 12:00
You will be welcomed by
Mme Maria-José Mesquida
Spoken languages : English, German, Spanish, French, Catalan
Payment methods




Nearby places of interest
The hotel is located in the historical centre of Campos, about 30 metres from one of the village's seven defence towers and 50m from the auditorium, the old chapel of the "minims" monastery. Nearby, in the pedestrian area, are the Sacré Cœur religious convent with its beautiful chapel and a museum which rarely opens. On Saturday mornings, you can visit the work of the famous painter and sculptor Miquela Vidal, in the former house of Can Oliver. It is also interesting to visit the Franciscan sisters' convent, now transformed into a multi-purpose hall. In the old building, some walls and the chapel's superb vault have been preserved. The building houses the municipal library and the music school. Saint Julian church, patron saint of the village, with its steeple from the 16th century. Some of its oldest chapels date from the 18th century and, one of these houses a tableau by Murillo. The parish museum opens on Saturday mornings.
Our stay ideas

CYCLING
A full range of facilities to meet the needs of cyclists: secure and closed premises, cleaning and drying of clothes, expert advice from the hotel owner on the tours, On request: adapted meals.
Reviews
Total / general mark
10
For 2 verified reviews
---
Total / general mark
10/10
Reception and service
10/10
---
All reviews have been written by guests who have stayed at our properties
Thomas Z.
10 / 10
Stay in 04/2022 -
Opinion filed on 02/05/2022
Anonyme .
10 / 10
Stay in 08/2021 -
Opinion filed on 08/08/2021
This customer has ranked the hotel without leaving any comment.
Frequently asked questions about the institution Logis Hotel Segles
What accommodation can I book at the hotel Logis Hotel Segles?
Logis Hotel Segles has set up several accommodation packages that you can discover by entering the desired dates
What is the cost of a stay at the hotel Logis Hotel Segles?
The Logis Hotel Segles establishment offers very attractive prices for even more attractive options. The minimum price starts at 90 EUR. Just enter your dates for more information about the rates!
Are pets allowed at the Logis Hotel Segles hotel?
Yes, your little companions can accompany you during your stay at Logis Hotel Segles.
What languages are spoken by the staff of the Logis Hotel Segles hotel?
For optimal communication and to ensure that all your needs are met, the staff at Logis Hotel Segles is equipped with the language skills to make you feel at home. Languages spoken:
English
German
Spanish
French
Catalan
How can I cancel my booking?
Cancellation is possible up to 48 hours before your arrival if your reservation has been made on logishotels.com and on the mobile application Logis Hôtels*,
With one click you can cancel from your booking confirmation email.
If not, please contact the establishment.

*Subject to the hotel's non specific booking conditions, only made from logishotels.com and within the cancellation deadlines in force.
Does the Logis Hotel Segles hotel offer an evening stopover?
Yes, this hotel offers you an evening stopover to accompany your business trips with comfort. Enter your dates to see availability!
Does Logis Hotel Segles hotel have a meeting and seminar room?
Yes, this establishment has a well-equipped space to welcome your partners and clients for your meetings and seminars. Find out more by accessing this page for more information.
What are the arrival and departure times at the Logis Hotel Segles establishment?
Check-in at Logis Hotel Segles is from 13:30:00 and check-out is possible until 12:00:00.
What is the average review rating for Logis Hotel Segles?
Earn euros and support our hoteliers
For a week-end or a long stay in BALEARES, make your booking in our Hôtel Logis Hotel Segles at CAMPOS in just a few clicks. Alone, with your family or with friends for your holidays or a short stay, come and discover the region and relax in Hôtel with all comforts.
scroll to