Logis Hôtel Restaurant du Pont
La Moulinquié
81340
AMBIALET
Show the contact information
You will be welcomed by M. Jean-Pierre Saysset
Fax: 00 33 0
Tel: 00 33 5 63 55 32 07
Mail: hotel.restaurantdupont@orange.fr
Book
La Moulinquié
81340 AMBIALET
Your stay at Logis Hôtel Restaurant du Pont
In the Tarn valley, at the heart of the unique site of Ambialet, the hotel & restauarnt "Du Pont" has been handed down from father to son for almost 2 centuries. Built in a haven of peace, calm and greenery on the banks of the Tarn, where nature is allowed to fully express its beauty, our establishment guarantees a warm welome, fine gastronomy and well-being.
Rates of Logis Hôtel Restaurant du Pont

room
from 55 to 130 EUR

Breakfast
10 EUR

Menu
from 22 to 55 EUR
Child special
13 EUR
Half board
from 55 to 80 EUR

Business night
from 74 to 114 EUR
Reception

18 room(s)
du 11/11 au 31/12 - du 01/01 au 13/02

du 11/11 au 31/12 - du 01/01 au 13/02
FIDELITY
ACCOMMODATION and ACCOMMODATION + RESTORATION
Facilities of Logis Hôtel Restaurant du Pont
All rooms with cable or satellite
Air-conditioning only in rooms
Air-conditioning only in restaurant
Restaurant suitable for the disabled
Animals allowed in restaurant
Qualité Tourisme

Maitre Restaurateur
+ More;
Activities
Park or Garden

Open-air swimming pool

Tennis

Children's palyground
Activities and interests at AMBIALET
Hiking routes, mountain bike and canoe hire, tennis, fishing and horse riding are all available in the vicinity of Ambialet. Visit Albi, Cordes and the Tarn gorges.
Credit cards welcome



LEARNING
Chestnut picking
Cooking lessons
Touring a farm
Touring a cellar
Touring a cheese dairy
Wine tasting
Sampling regional products
SPORTS
Golf
Kayaking / Canoeing
Accrobranche (treetop trail)
Horse riding
Rock climbing
Electric cycling
FAMILY
Adjoining room
quadruple room
Recreation area
UNEXPECTED
A trip by barge
A meal in wine cellars
SENSATIONS
Hot-air ballooning
Circuit racing
0.00 Km from your search area
La Moulinquié
81340 AMBIALET
81-TARN - Midi Pyrenees
FRANCE
Customer reviews
| | | |
| --- | --- | --- |
| Total / general mark | | 8.3 |
| Reception and service | | 8.5 |
| Accommodation | | 7.4 |
| Restaurant | | 8.6 |
| Value for money | | 8.3 |
| Recommendation | | 8 |
| Breakfast | | 8.5 |
| Cleanliness | | 8.4 |
take free time and pleasure in the Tarn
From Tuesday 12 November 2019
to Wednesday 15 January 2020
- room view river, body massage (30 minutes each or 1 hour for one personn), diner (local menu), breakfast and a gift in the room
The 'Gourmet Life' Getaway
This stay includes for two people : 1 night's accommodation in a double room; 1 full breakfast with fresh fruit juice, hot drinks, fresh bread and pastries. Eggs and ham upon request; One Breakfast « extra »: Homemade jam, organic or local products 1 gourmet meal with at least 3 courses: starter, mains and dessert; At least 3 Choices for the main course with meat or fish ; Beverages and cocktails are not included
LE PLUS LOGIS Homemade pastries + a bottle of Gaillac wine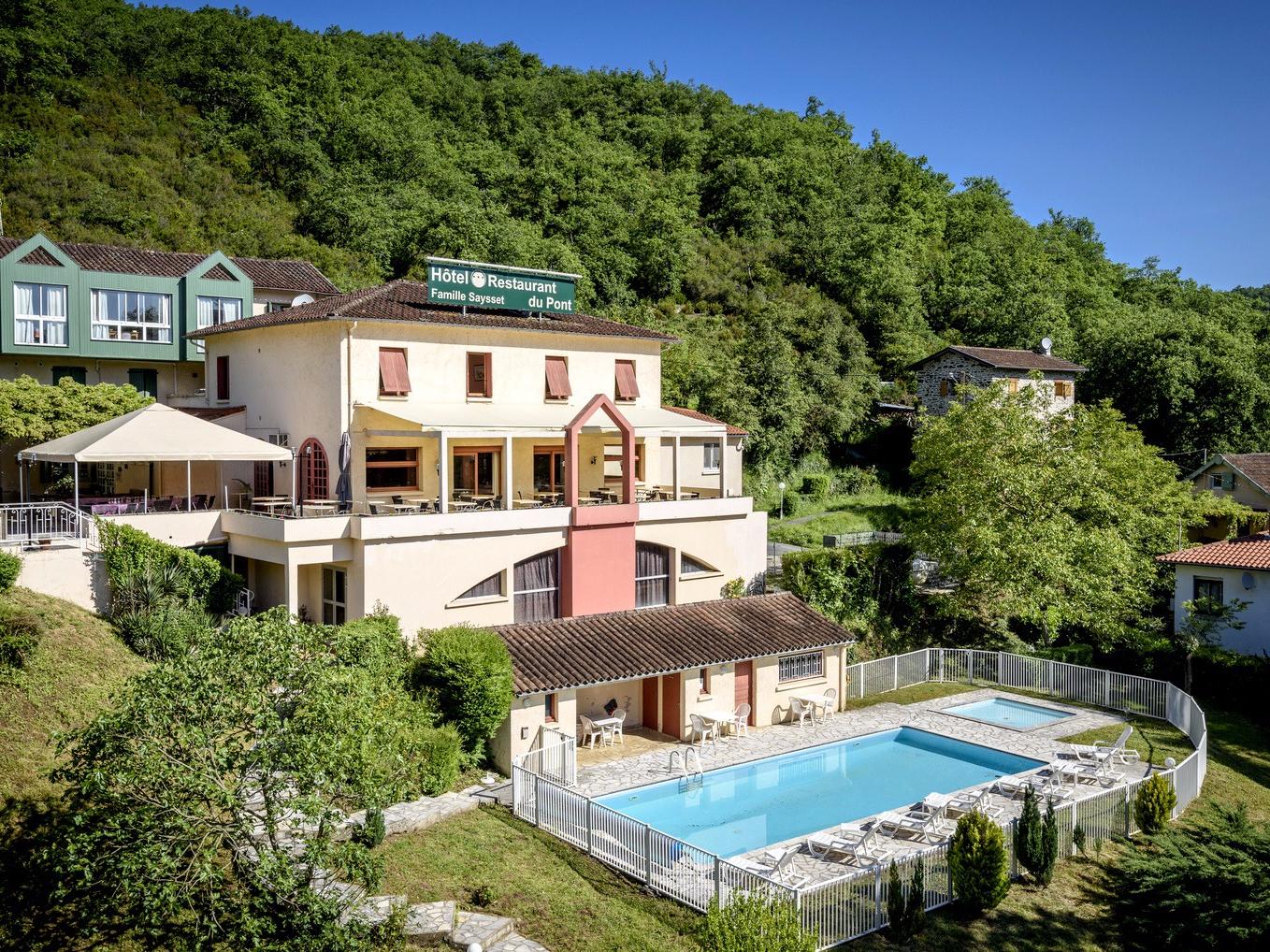 The 'I am up for local tastes' Getaway
This stay in a hotel fully keeping with regional tradition includes for 2 people : 1 night's accommodation in a double room ; 1 full breakfast with fresh fruit juice, hot drinks, fresh bread and pastries with local or organic products ; 1 meal with at least 3 courses: starter, mains and dessert ; The meal includes local or regional products. At least 2 choices within the 3 courses. Drinks and cocktails are not included
LE PLUS LOGIS Homemade pastries
81-TARN - Midi Pyrenees
FRANCE