Log in
Create an ETIK account ?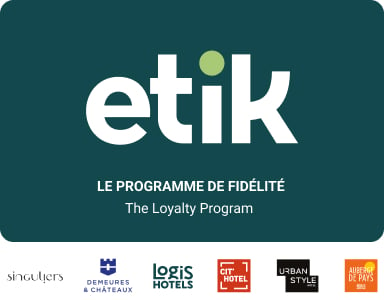 Already have a loyalty card ?
If you already have a loyalty card, enter your card number and PIN code to view your information and account balance.
To associate your account with your card number, please enter your loyalty number here:
This information will be used to send you personalised marketing communications and information. It is used by the Fédération Internationale des Logis (83 Avenue d'Italie 75013 Paris) in compliance with the Logis confidentiality charter. Most of the data is kept for three years or less from the date of your purchase or last activity. This data may be sent to our internal departments and to our sub-contractors strictly within the context of Logis services. At any time you have the right to access, rectify, restrict access to, transfer and erase your personal data by contacting us via our form. In addition, you have the right to refuse marketing communications mentioned at the bottom of each email that is sent to you. In the event of a complaint, you can contact the Data Protection Officer at Logis or the National Commission for Data Protection (www.cnil.fr). »
Your ETIK loyalty card in 3 steps
It's easy to join us

Online or at our hotel reception and get your ETIK loyalty number

Earn euros and support the hoteliers in our regions!

every time you book and for every stay or meal in our hotels and restaurants.

Transform your euros

into a dematerialised loyalty vouchers to be used in all our hotels and restaurants upon presentation of the cheque number
Join the ETIK loyalty programme and get:
Your loyalty euros credited for all your business or leisure stays
All you have to do is show your loyalty card or the number when you pay for your stay or your meals and your loyalty points will be credited to your ETIK account within 24 hours!
Earn euros in the restaurant from the moment you start spending, at lunch and dinner
For lunch on the go or on the way to your holiday, you can stop at one of our 2,000 restaurants and earn euros with your loyalty points
Exclusive discounts from 30,000 partners
Use your discounts platform to save money on your everyday purchases
A bonus for each of your bookings on Logishotels.com
Earn €0.25 for each booking on the Logis website and on the mobile app
Earn €15 of loyalty vouchers per week
With a business stay: in one week with 3 lunches at 15€ + 3 evening stops at 85€. With a leisure stay: with 2 weekends with 2 nights for 2 people with breakfasts at 280€.
Your account has already been activated. If you forgot your password click on the password forgotten button
scroll to