hôtels Marina di pietrasanta
Your hotel in Marina Di Pietrasanta
Book your hotel and restaurant in Marina Di Pietrasanta among 2200 Logis establishments at a low price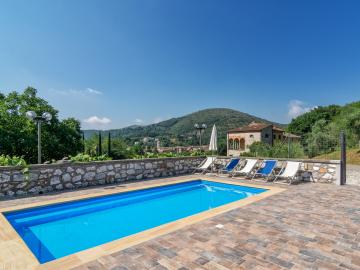 Villa Rinascimento is a magnificent Renaissance villa overlooking the valley of Santa Maria del Giudice. This is an ext...
+ details
Discover Italy's regions. From your hotel you can visit the different sites near Marina Di Pietrasanta in the department Lucca or organize the legs of your trip in cities based on your interests.
You will discover local specialities at the hotels in Marina Di Pietrasanta thanks to your hosts' advice. You can discover the historical, cultural and gastronomic patrimony by treating yourself to regional recipes prepared by our chefs.
Upon arrival, you will take advantage of the comfort and conviviality of the quality accommodations by Logis hotel-restaurants in Marina Di Pietrasanta.
Do wait any longer! Take advantage of our online reservation system and enjoy your holiday with peace of mind.
Hotel in MARINA DI PIETRASANTA: discover the reviews of travellers
Activities and sightseeing in the area of MARINA DI PIETRASANTA:
Villa Medici von Seravezza
Cardelli e Fontana arte contemporanea
galleria della cornice
Galleria D'Arte Athena
Rotini Art Gallery
Guastalla Centro Arte
GAMeC CentroArteModerna PISA
Galleria Flora Bigai Arte Contemporanea
Barbara Paci Gallery
Associazione Culturale Studio Gennai
Means of transport near MARINA DI PIETRASANTA:
Luchthaven Pisa Galileo Galilei
Lucca-Tassignano Airport
Guardia Costiera Comando Base 1^ Sezione Aerea Sarzana Luni
Officina Ats Assistenza Tecnica e Servizi
Il Ciocco - The Living Mountain
Campus Hotel & Apartments
Massa-Cinquale Airport
Top Level scuola di parapendio in Toscana
Campo Volo Girofly Delta Condor
Aeroporto Civile G. Galilei