Your hotel in Mouscron
Book your hotel and restaurant in Mouscron among 2300 Logis establishments at a low price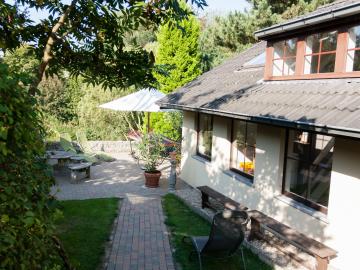 The rooms at the Domaine de Vertes-Feuilles offer both a completely private space of freedom, each with its own spacious...
+ details
Discover Belgium's regions. From your hotel you can visit the different sites near Mouscron in the department Hainaut or organize the legs of your trip in cities based on your interests.
You will discover local specialities at the hotels in Mouscron thanks to your hosts' advice. You can discover the historical, cultural and gastronomic patrimony by treating yourself to regional recipes prepared by our chefs.
Upon arrival, you will take advantage of the comfort and conviviality of the quality accommodations by Logis hotel-restaurants in Mouscron.
Do wait any longer! Take advantage of our online reservation system and enjoy your holiday with peace of mind.
Hotel in MOUSCRON: discover the reviews of travellers
Activities and sightseeing in the area of MOUSCRON:
Biennale Interieur
Autour d'un Cadre
Artigance
L'Encadreur
Cnockaert Frederik Art atelier for paintings, sculptures and art objects restoration kerat bv
Malpertuis
Marc Delagrange Optical Gallery
Galerie C
MiroArt
Christophe Catelle Sculpture - Atelier Dryade
Means of transport near MOUSCRON:
HERBERG en B&B BOERENHOL
Lille Airport
Flanders International Airport
Dragan Benjamin - Aeroport-Navette
Zoute Aviation Club West-Vlaanderen
Drive Airport
FBO Flanders Airport - FIA nv
Martony VIP & Luchthavenvervoer
Avianor
Chapman Freeborn Airchartering bvba